2020.6.30
"Thank you for starting this!": women express their gratitude for a new SDG project
In April 2020, "THANK YOU!", a Benesse Corporation company which handles publication and operation of a lifestyle information magazine and website for women, began a partnership with its readers and users on the subject of the Sustainable Development Goals (SDGs) by creating a new section on the website and featuring articles in the magazine. While knowledge about the SDGs is growing among business people and children, tangible action is still rare among regular households. Here we introduce new initiatives designed to raise awareness of the SDGs and to implement real action in cooperation with go-getting women.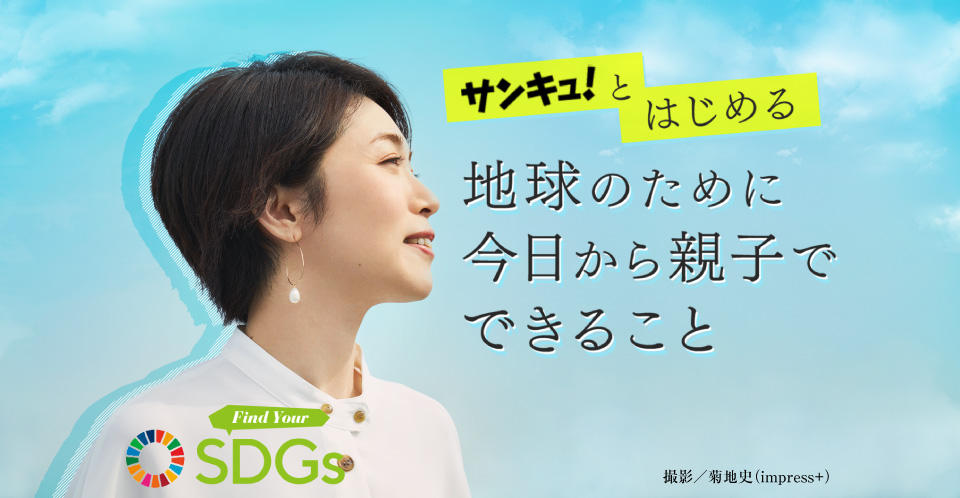 Proactive and influential women drive the planning and implementation of SDG actions
Benesse Group magazine THANK YOU! celebrates its 24th anniversary this year. Through its numerous projects to reflect the changing attitudes of married women (its main readership group), it has achieved the status of best-selling mass-market magazine for women* amid a slump in the magazine market in general. It also operates a website that attracts around five million visitors a month. A new section on the magazine and website was recently created: "Find Our SDGs: THANK YOU! explores what parents, caregivers, and children can do for the planet right now."

THANK YOU! selects a different theme each month to get parents, caregivers, and children thinking about the SDGs, and communicates this to the influencers that form the core of THANK YOU! fans. Once the details of the theme have been approved these users formulate an action plan and send this out to others via SNS and other platforms.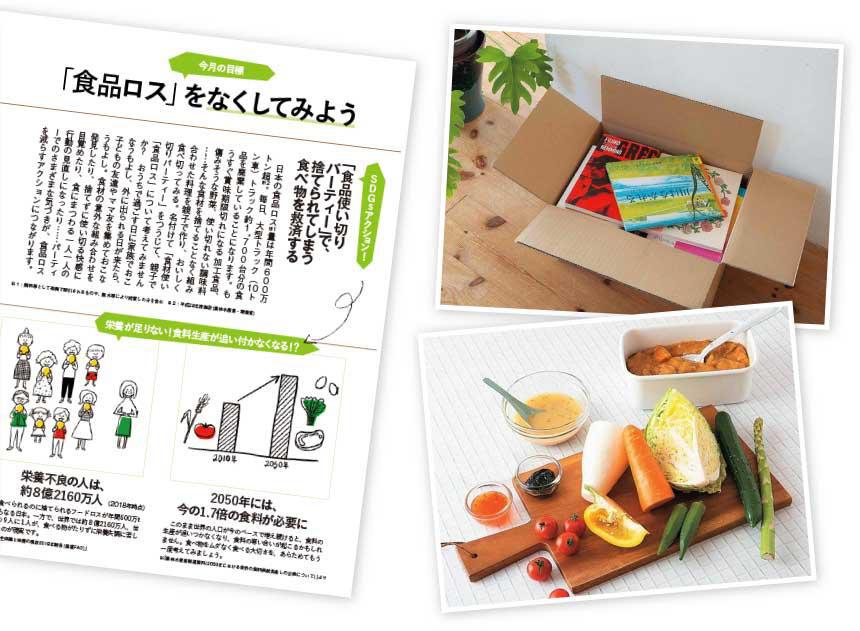 *Comparison of average monthly sales of magazines classified as "women's magazines" at bookstores and convenience stores in July-December 2019, based on data from the "ABC Report on Magazine Publishers for July-December 2019" issued by the Japan Audit Bureau of Circulations. Excludes periodical subscription magazines.
"Thank you for starting this!" Thinking about issues together with children. Numerous actions that can be incorporated into our everyday lives have been suggested.
The related section of the website and SNS platforms now see a lot of posts by the influencers tagged as "#THANK YOU! SDGs group."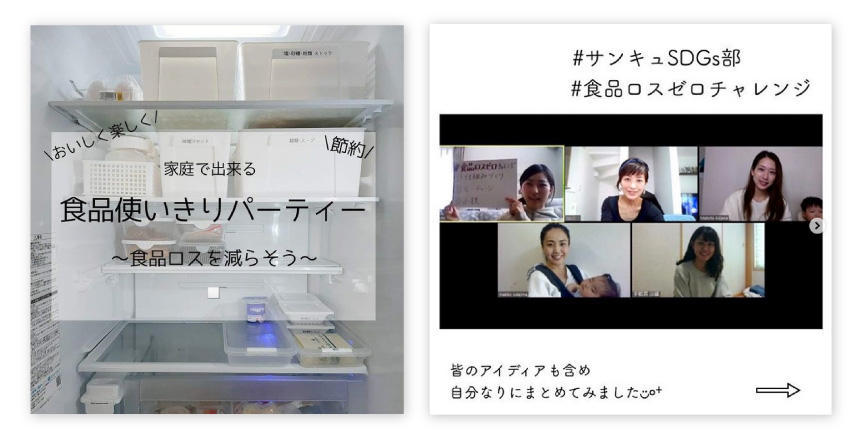 For example, user "mioko," who from her previous experience of working at a supermarket was aware that a lot of unsold everyday dishes and items past their sell-by dates get thrown away each day, suggested holding home parties to use up all the leftovers, something which was apparently enjoyed by parents, caregivers, and children alike.
Mioko said: "I feel it's such a waste and a shame when things are thrown away, and talked to my children about ways we could actually use these items. I was happy that this project helped me contribute a solution to the issue of food waste, which is something I have long been concerned by."

In addition, Nonsuke, an amateur model who appears in THANK YOU!, independently hosted an online discussion with other amateur models on the topic of "The zero food waste challenge." The discussion and ideas that emerged from it were summarized on SNS platforms.
Nonsuke said: "This is about economizing and about the COVID-19 stay-at-home period, but it's also something we can do for the planet. I believe it's really cool, and is something that can be made more enjoyable."

We talked to Ms. Maki Iitsuka, editor-in-chief at Benesse Corporation's Kids & Family Business HQ, about starting up the THANK YOU! SDG project and the influence it has had.

"When I was first told about the THANK YOU! SDG project, it made a big impression on me that many people had said "Thank you for starting this! It's something we've been waiting for." I was heartened by the response, especially from those people with a strong interest in the topic, as there were more and more posts suggesting concrete things we could all do in our everyday lives."
"I want to contribute to society and be a role model for my child." The spread of action plans highlighted mothers' determination to create households that can positively shape their children.
We also asked Ms. Iitsuka about the motivation for the project and her hopes for the future.
"While awareness of the SDGs is gradually spreading, it is currently only really a focus for a few companies and investors. Given this difficulty of truly incorporating the SDGs into everyday life, I thought this was exactly the kind of thing that a media platform like THANK YOU! should tackle in order to contribute to society."

"The average age of the eldest child of THANK YOU! readers is around 10, and this is the generation that will become legal adults just as the SDG's achievement target date of 2030 is reached. Having seen their children learning about the SDGs at school, I believed that many of the mothers who read THANK YOU! thought to themselves "I want to contribute to society and be a role model for my child." Long before the SDGs were formulated, THANK YOU! was featuring content on economizing and ecology, what we now call "ethical consumption."

"Even before the concepts of SDGs and food waste were given names, women with families have always been extremely mindful of their children's futures and of consumption through their daily housekeeping and child raising activities. By starting a project that brought those feelings back to the fore, I think that THANK YOU! has given them a stronger sense of determination to think and take action by themselves. THANK YOU! is a media platform for married women, but behind these women are children and husbands that make up families. I believe these women are ideally suited to put the difficult-to-articulate actions required to achieve the SDGs into words that are easy for children to understand. If the proactive behavior and shared sense of unity among women at the center of families, society's smallest unit, can spread to other areas, I believe we can change society and the future. I want THANK YOU! to continue working to promote that."

We will continue to work hand-in-hand with the readers and users of THANK YOU! to be of assistance in tackling the SDGs.
Article cooperation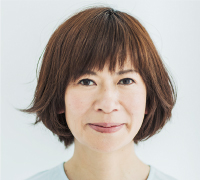 Benesse Corporation
Ms. Maki Iitsuka, Editor-in-chief of THANK YOU!
Ms. Iitsuka moved to the editing section of THANK YOU! after previous experience editing a lifestyle information magazine. She moved to this title in 2017 following work on a sister title and a magazine about food education. She had visited more than 1,000 regular households in the course of her work.
・THANK YOU!
・"THANK YOU! explores what parents, caregivers, and children can do for the planet right now."