2019.3.19
Children tackle environmental issues: a helping hand from parents and other caregivers to develop problem-solving capabilities
As they represent the future, we want children to have experience of tackling local issues in their own way. To that end, every year we hold the "Summer Challenge for All Elementary School Students: Making the 'Future' Contest." In the process of completing their research projects for the contest, children sometimes require a practiced "helping hand" from parents and other caregivers. After the selection of entries for the 2018 contest, the 15th edition, we spoke to representatives of the contest office about children acting on their own initiative and interaction with adults.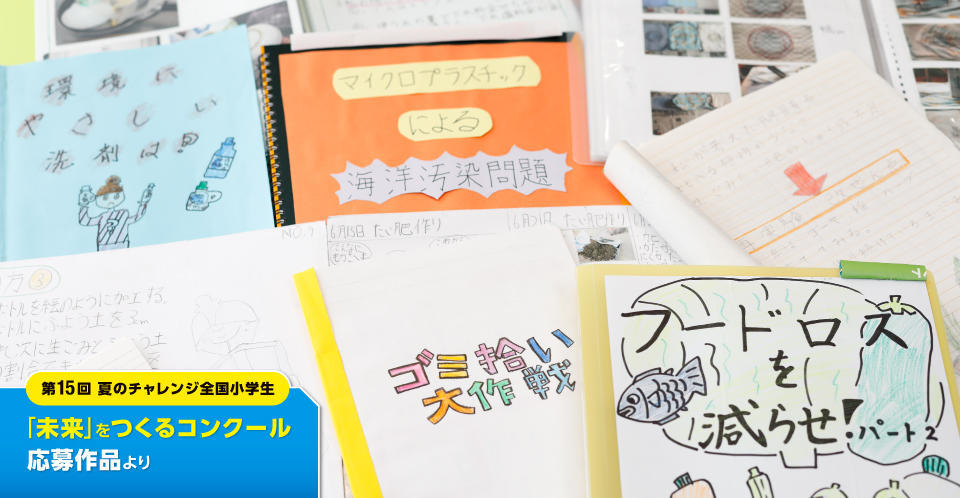 Academic study alone is not enough to develop the ability to shape the future. We want children to be interested in society and have the ability to act independently.
The "Summer Challenge for All Elementary School Students: Making the 'Future' Contest" collects more than 30,000 entries every year from children nationwide, including from those who are taking Shinkenzemi elementary school courses run by Benesse Corporation. Entries for the environmental and independent research section focuses on themes of "environmentally-friendly activity reports" and "mystery research" to encourage children to try to solve environmental and other issues local to them. This requires them to get actively involved through observation of actual sites and by talking to the people working there.
Mr. Hiroyuki Kurose, operations manager at the contest office, told us about the aims of the contest.
"While academic study is of course important, we want children to use what they learn to solve issues in their local society, and to have a sense of curiosity that they can gradually apply to developing the ability to shape their own future. As children progress through the school grades, there is a tendency for their focus to shift from trying to make the people around them happy to trying to make someone in society happy, and the contest gives us a real sense of developing societal awareness. Some of the entrants establish a hypothesis and then set out to investigate and report on it, and the teachers judging the contest comment that the children are just like full-fledged researchers."
"Over the past few years, we have seen projects on themes including energy issues in light of recent disasters in Japan, climate change, food wastage, and plastic recycling. In addition, we have seen children coming up with innovative studies that are not bound by conventional notions, such as looking at things generally said to be good for the environment, like whether sprinkling water on the street is really effective in combating midsummer heat."
According to Ms. Chiaki Nagata, who has been in charge of the environmental section for the past three years and is also involved in interviewing the winners:
"As this is the kind of learning experience children can only have in the summer vacation, most parents and other caregivers are very cooperative. Some families also work together to narrow down the project theme, holding family discussions to look at problems they face in their everyday lives and to identify simple questions they don't know the answers to. We have seen children who become interested in the problem of food wastage from parents and other caregivers working in food-related industries, who then try to find out what they can do to alleviate this issue in their own lives."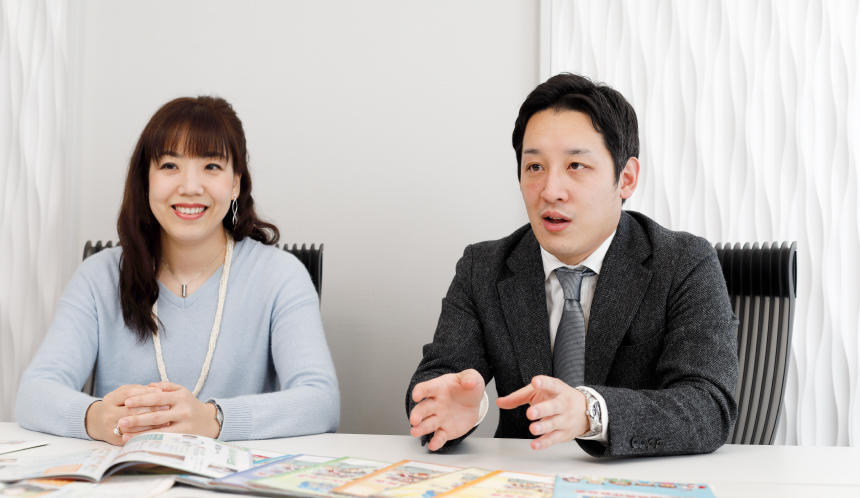 When projects come to a standstill, parents and other caregivers can help children tackle issues that cannot solve alone simply be asking "Why did you think that?"
While it is important for children to take on challenges by themselves, there are times when they face obstacles they cannot overcome alone. In such instances, a helping hand from adults is crucial.
For example, there may be times during the process of research or writing a report that a child will come to a standstill, unsure of what to do next. Parents and other caregivers of previous winners have told us that in such instances they asked "Why did you think that?" By offering such simple objective advice rather than just providing the answer, they were able to ease the uncertainty being felt by the child and straighten out their thinking, enabling them to get back on track toward the original objective.
In addition, children might struggle when, in order to get to the heart of a problem or find a solution for something, they try to go to places or to do experiments on their own.
"A child who was studying the problem of waste disposal apparently got a family member to take them to related facilities and workshops. As a result, they were able to consider the problem from a variety of perspectives and understand the overall flow of recycling, and thus propose a corresponding change in their own behavior." (Ms. Nagata)
Although parents and other caregivers have limited time to help, support at the opportune moment seems helpful in strengthening children's curiosity.
Society will need different things from its young people, and children's curiosity is a valuable tool for the future
Amid a lack of visibility about the future in both Japanese society and global society, societal requirements of young people will likely change.
"I think it is good to widen the range of approaches to the same environment issue by considering how to tackle it from different viewpoints. To do that, it is important not to just research a problem, but to use that as the starting point to think about what you want to change in your own life. For parents and other caregivers, I hope they use a variety of methods to expand their child's scope of interest, such as making it a habit to ask them what they think about everyday issues and talking with them." (Ms. Nagata)
"Above all, it is important to listen to the feelings of the child themselves, and I hope we can assist parents and other caregivers in encouraging their child's interests and in going out into society with them to take action." (Mr. Kurose)
Children who take an interest in their local environment and have the desire to solve issues they find have significant potential for shaping the future. We want them to use these problem-solving capabilities to create a sustainable and affluent society. To that end, there are times when they need an effective helping hand from parents and other caregivers. Benesse will continue to think about how we can provide environments in which children can learn these skills.
Information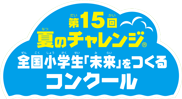 "Summer Challenge for All Elementary School Students: Making the 'Future' Contest"
*Submissions will be sought for the 2019 contest (the 16th edition)

Main sponsor: Benesse Educational Research and Development Institute

Cosponsors: Shinkenzemi elementary school courses, Benesse Grimm School, UP Inc., Benesse Gakudou Club

Supporters: Ministry of Education, Culture, Sports, Science and Technology, Ministry of the Environment (Government of Japan), Tokyo Metropolitan Board of Education, Japan Elementary School Science and Research Association, Japan Association of Elementary School Socio-Environmental Studies and Educational Research, National Federation of Educational Policy Research Institutes, Environmental Education Promotion Association, Japan Federation of Prefectural Education Boards, Japan PTA Association, Fukui Prefectural Dinosaur Museum

https://sgaku.benesse.ne.jp/sho/all/others/concour/
(Japanese version only)