2018.7. 5
"Avatar robot" OriHime increasing learning opportunities for hospitalized children
Children receiving long-term treatment for illnesses often attend hospital schools. In order to support expansion in learning opportunities for such children, Benesse Foundation for Children has been working with special needs schools in Metropolitan Tokyo to develop a learning model that utilizes information and communication technology (ICT).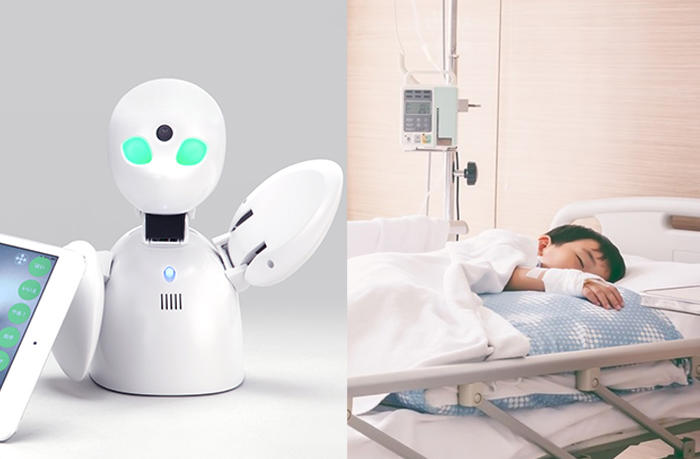 Use of ICT to support learning and communication
The project was started in June 2015 at the Gentle Breeze Classroom of Tokyo Metropolitan Komei School for Special Needs Education with the aim of supporting learning and communication for children studying in hospital schools. By using OryLab's "avatar robot" OriHime, children who cannot leave their hospital rooms can connect with the hospital school's teachers and their friends, thereby improving their opportunities to learn and communicate.
From FY2016, the project was expanded to four special needs schools in Metropolitan Tokyo (*1), and the company is striving to increase the volume of application examples while creating effective learning models.
(*1)The schools which participated in the hospital school project were: Tokyo Metropolitan Kita School for Special Needs Education (the Kodama Class at The University of Tokyo Hospital); Tokyo Metropolitan Kodaira School for Special Needs Education (including the Musashi Class at the National Center of Neurology and Psychiatry); Tokyo Metropolitan Komei School for Special Needs Education (including the Gentle Breeze Classroom at the National Center for Child Health and Development); and Tokyo Metropolitan Bokuto School for Special Needs Education (including the Dolphin Class at the National Cancer Center Hospital).
Image of "avatar robot " OriHime
OriHime is placed in the classroom of hospital schools and can be remotely operated from a hospital bed using a web-connected tablet. It enables children to communicate as if they were in the classroom, as they can move the camera around to look at things and use hand movements and other gestures to join in conversations.
There is a host of possible ways in which OriHime can support learning, and the schools participating in the project are trying out a variety of things.
Application example: OriHime can be "present" at a child's previous school in the lead up to a graduation ceremony
If a child begins studying at a hospital school because of the need for hospitalization for long-term treatment of an illness, their school enrollment is transferred from their previous school. Once they complete their treatment and are discharged from hospital, the enrollment reverts back to their original school.
Boy A was hospitalized and began visiting the hospital classroom at a metropolitan special needs school from the 2nd term of his 6th year at elementary school. After being discharged, he was able to go back to his old school before the March graduation ceremony, but was worried beforehand that his classmates might forget him due to his long absence from school. In order to ease his concerns, the teacher of the hospital class suggested that A "let OriHime go to school in his stead." A was very positive on trying this idea, and began using OriHime from his hospital bed to join in classes at his previous school in the time before graduation.
Although he looked slightly nervous at first, A relaxed once he got used to the situation and became more enthusiastic about taking classes. His classmates were also surprised by OriHime initially, asking curiously "Is that really A?", but once the classes got going they all settled down as if A himself was there with them.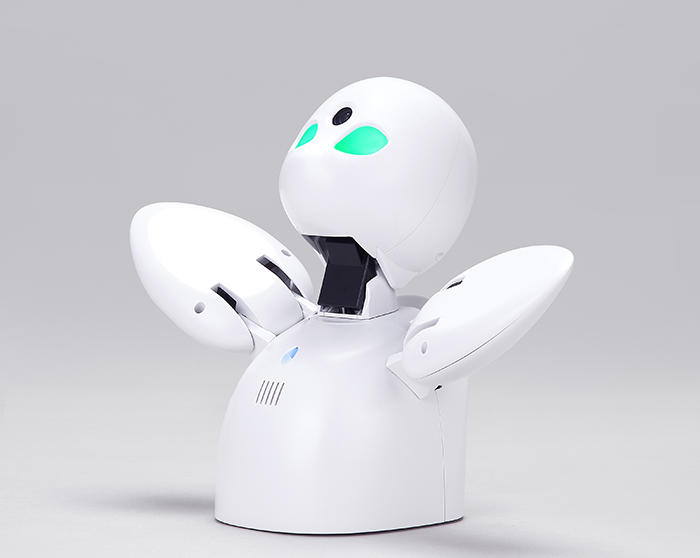 At recess, the other children took it in turns to talk to A through OriHime, and A had fun complying with their various requests like "Put your hands up" and "Look this way". After the class, one of A's classmates tried to say something, but eventually said "We can talk about it next time at school," showing that he was looking forward to the time they could talk directly to each other.
A few days later, A's mother thanked the hospital class teacher, saying: "He had been very unenthusiastic about attending the graduation ceremony, but thanks to OriHime he now seems very motivated to get back to school."
A diversified approach to creating learning environments for children
We want children to retain their desire to know and learn new things and to talk with their friends whatever environment they happen to be in. Ms. Kana Iwanaga, a staff member at Benesse Foundation for Children who was involved in the project from the beginning, said:
"Once I actually experienced OriHime and saw it in operation, I really understood why it's called an "avatar robot." I want more people to know about this initiative in order to expand this project as a model for supporting children's learning when they are fighting an illness. I would like to gain the understanding and cooperation of a whole variety of people as well as to try out new things so that we can cherish the idea of "giving children good learning experiences."
While this is just one example of using ICT, it is important to continue coming up with a variety of cross-disciplinary approaches with the aim of supporting children's learning environments.
(The article about this project was originally a special feature in Benesse Foundation for Children's Annual Report FY2016)
Related websites (Japanese version only)