2020.10.30
Benesse's know-how compiled into the "Health Textbook": fun and practical educational materials for adults
As Japan becomes a super-aging society, how will people live out their lives in the "era of the centenarians"? Amid increasing societal interest in this issue, Benesse Corporation has published the "Health Textbook," a book which offers basic knowledge and practical lessons about health. The original idea for the book was to make parents and other caregivers in the 30s and 40s think more about their health, both for their own and their children's sake. The aim is to leverage the learning know-how accumulated through our education business to help health awareness programs in regions and companies across Japan. We talked to the staff involved about the journey toward eventually publishing the book.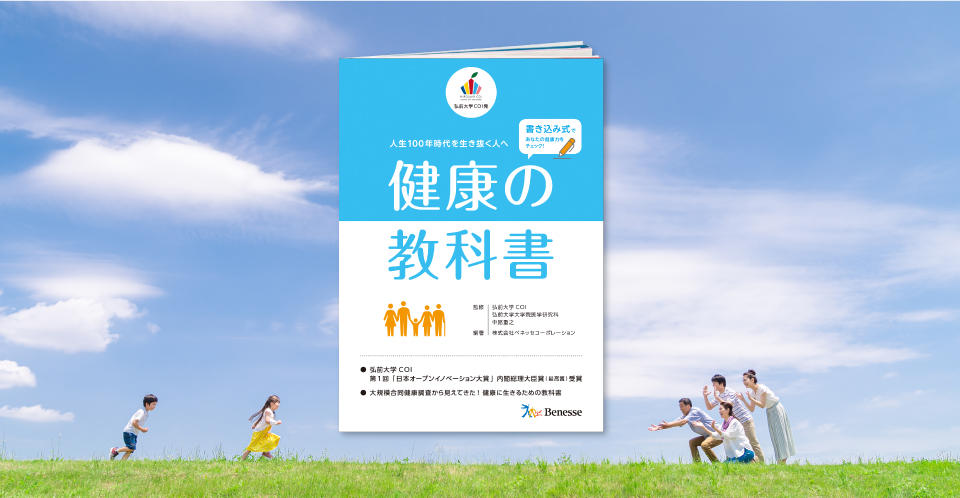 This was initially a real-world test for health education in schools. We realized the importance of also involving families through their children.
Benesse Corporation's Business Strategy Division is tasked with finding concepts for new services. Ms. Fumiko Yoshida, the key figure in this project, was searching for ideas that Benesse could commercialize amid growing interest in health in society when in 2016 she came across and eventually became involved in the COI* of Aomori Prefecture's Hirosaki University, a healthy aging innovation program which aims to redeem the prefecture's reputation as the prefecture with the lowest life expectancy.

*COI stands for Center of Innovation, and forms part of the COI STREAM program begun by Japan's Ministry of Education, Culture, Sports, Science and Technology in 2013 to foster radical innovation and entrepreneurship. The program fosters university-industry collaborations to imagine the ideal forms for society and lifestyles and to make these a reality.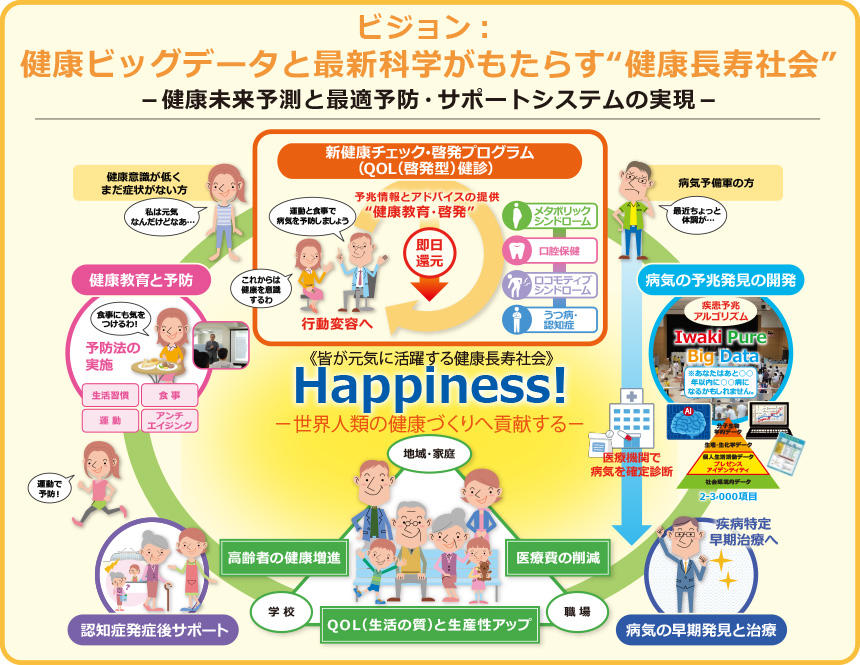 The initial project for Hirosaki University's COI that Benesse was in charge of was the development and real-world test of a health education program aimed at schools and other institutions. The underlying idea was of the importance of raising health awareness among people in their 30s and 40s, those in the prime of their working lives, in order to prevent lifestyle-related diseases. The key dilemma was that owing to this age cohort being very busy, there are few contact points with them. The project aimed to raise health awareness among parents, other caregivers, and families by partnering with Benesse and others to implement health education for children.

Ms. Yoshida reflected on the initiatives implemented at elementary schools.

"When the subject of diseases came up in health classes, some students apparently burst out crying. There are a lot of children with sick family members who are distressed despite not normally showing any signs of this. Working with both the university and teachers at the school, we used a process of trial and error to come up with materials and a teaching plan for how to get these students into a more positive mindset."

"When we gave homework that, through the children, made families reflect on this lifestyle habits, one caregiver came to us and said "When I looked at the things my child had written about my lifestyle habits I saw they had written "My MoM got sick, but she will be OK as she has really good lifestyle habits!" Seeing that made me want to continue working at it." This confirmed to me the importance of supporting people in getting better visibility and knowledge on their current health situation, and of increasing the number of positive things that particular person can do in their everyday life."

Not just providing knowledge, but bringing out what people what to know and want to do for their own health
Through the COI partnership, we can also learn about the state of health education in other companies and regions

"Local authorities, companies, and organizations in all regions of Japan are conducting health awareness activities for their employees and citizens. There is a lot of effort being made, including hand making of documents and teaching materials. However, their main worries are that people don't stick at it and the awareness doesn't translate into action. Many times we have been asked "Benesse, please make some easy-to-understand, fun materials that will make people want to continue," and this encouraged us to use a real-world test via the COI to put together some health teaching materials."

There are innumerable ways in which Benesse can utilize its educational know-how in the health sphere. By exchanging a range of opinions with the healthcare-related companies that are COI partners (including Lion, Kagome, and Kao) and with the cooperation of the Group's senior care and nursing care business Benesse Style Care and the supervision of the Hirosaki University COI, we completed the "Health Textbook" in August 2020.

Next, we look at some of the techniques included in the textbook.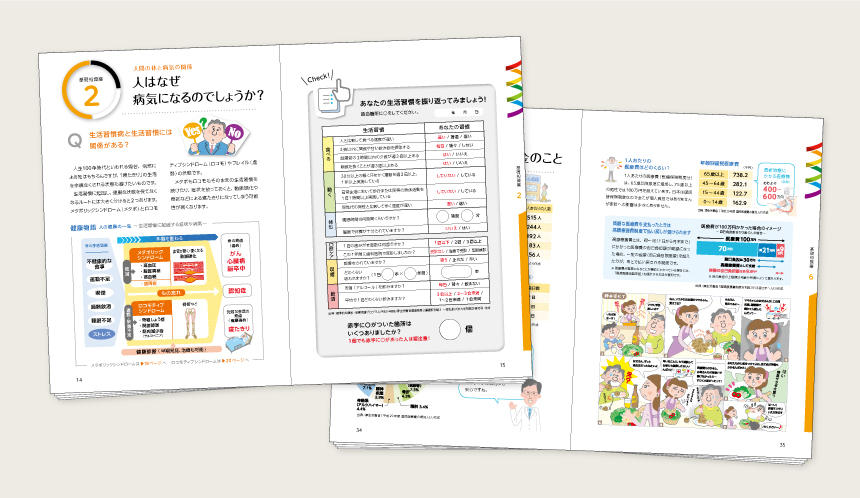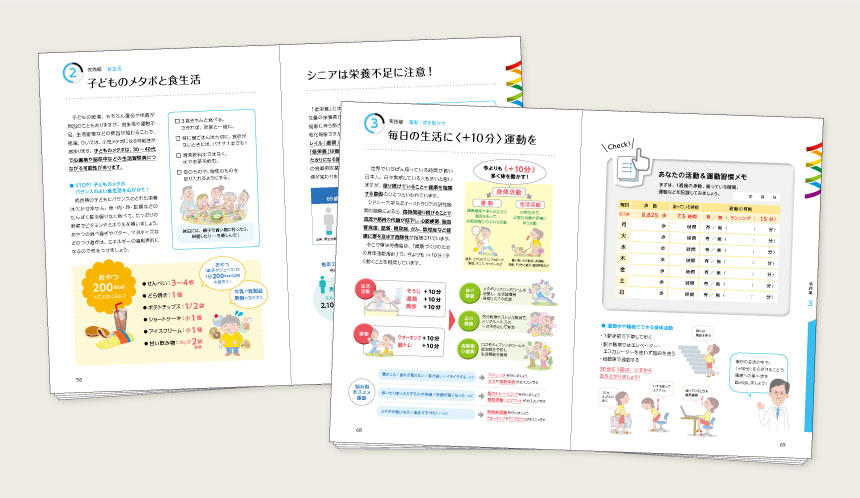 The reason we chose to compile a book as part of the cooperative real-world test with Aomori Prefecture and Hirosaki City was that we understood the importance of providing an interactive style, including making it handy to write in during everyday life. It has started to be adopted as training material for companies and local authorities, and we continue to verify responses.
Not increasing the "Don'ts" as a preventative measure. Letting people develop their own program while having fun.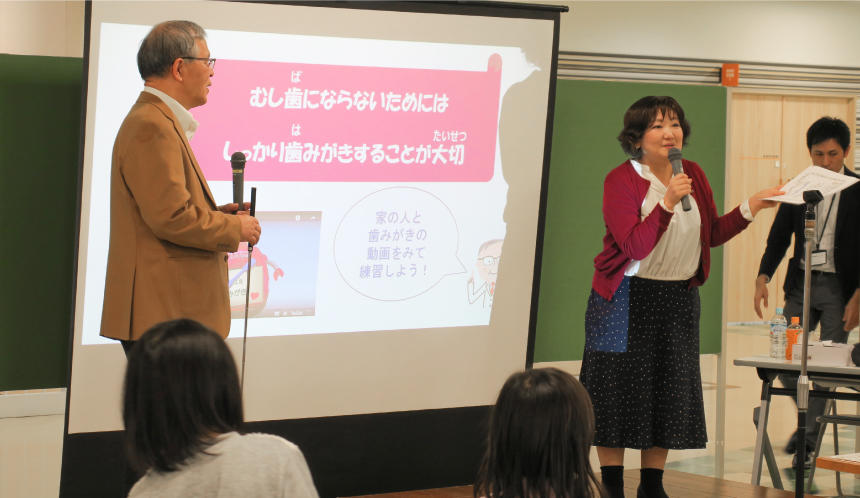 Ms. Yoshida stated that she has learned from the project that increasing the number of instances in which you say "this is out, that is out" for health is not conducive to increasing the quality of people's lifestyles.
"Health involves not only the state of the body, but also the mind and one's motivation in life. The people involved in the project have taught me that it is possible to remain "upbeat" by learning to live with a disease that you have. Having taken the first step with the book, I want to continue further developing an enjoyable program to enable people to live full lives the era of the centenarians."

Benesse has only just begun challenging new business areas.
Information, Article cooperation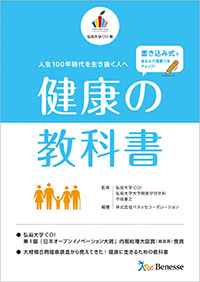 The "Health Textbook" A 92-page, B5-size book published in August 2020. Supervisor: Shigeyuki Nakaji, M.D., Ph.D.
President of Center of Healthy Aging Innovation (COI), Hirosaki Univ. Research Leader (RL) Special Assistant to the President of Hirosaki Univ. (COI), Chief of Innovation Center for Health Promotion /Edited by Benesse Corporation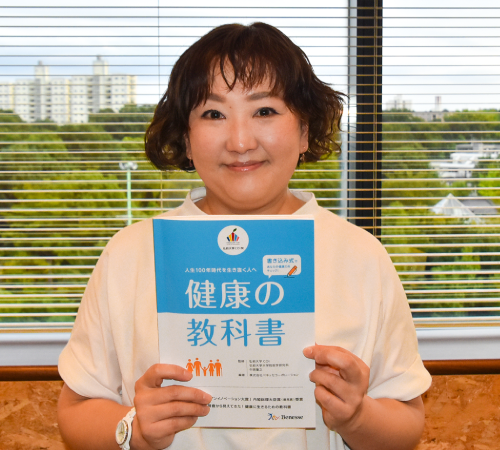 Fumiko Yoshida / Benesse Corporation
Business Strategy Division
Took charge of the book editing with the goal of using the results from the real-world test at Hirosaki University COI to give back to society.
Joined the Business Strategy Division after many years editing educational materials for Kodomo Challenge and Shinkenzemi, among others. Currently involved with the Senior Nursing Care Research Center (Benesse Style Care, Co., Ltd.) and simultaneously with R&D aiming to establish the importance of health literacy (the ability to put health knowledge into practice) among working adults and older generations as well as health education from a young age.