2018.3.29
"Programming education" changing elementary schools! Developing thinking and communication capabilities through music making
"Programming education" has been specified as a compulsory new course of study at elementary school level in the next curriculum guidelines. The aim is to teach children "programming-like thinking," the ability to logically work through the stages necessary to solve problems. Amid this growing interest, trials of new lessons have begun at regular elementary schools.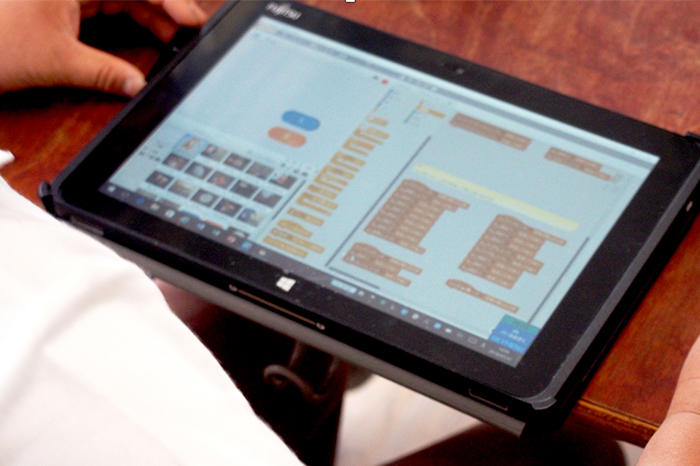 Music lesson, with tablet PCs on desks rather than instruments
"Let's try this!", "Yeah, that's good." The sounds of children's enjoyment wafts out of the classroom of Class 2 of the 3rd year at Osaka Municipal Mattahigashi Elementary School. It is lesson 5 on 31 January, music lesson, but the children are not holding recorders or castanets. Huddled around desks in groups of four, the children are using tablet PCs rather than instruments. The school is one of the institutions working with Osaka City Programming Education Promotional Office, which began a "programming education in the curriculum" research initiative from April 2017.
Under a contract with Osaka City, Benesse Corporation has been providing support for the participating schools' efforts, including designing lesson plans and developing the materials that are uploaded onto the tablets. The lessons are part of the business's programming education training and workshop lesson operations.
"Making magic music", working with friends to think logically
In order to foster the logical thinking, creative, and problem-solving capabilities that society needs moving forward, programming education has been specified as a compulsory new course at elementary schools from FY2020. However, "programming education" does not mean that children will have computer lessons or learn computer programming language. Rather, the aim is to have children use computers for specific tasks during existing subjects and course units, such as Japanese language or arithmetic, to help them understand the necessary steps to problem solving and equip them with logical thinking skills. As a result, the research theme of programming education at the schools is "raising children who can work with friends to think logically and solve problems."
As part of a course unit called "feel the qualities of different sounds," the children in the music lesson use tablets to create "music as highly effective magic." The aim is to make music to go with lyrics about a magician who tried to make delicious cakes using the power of magic, and to make that music sound like real magic.
The lesson use tablets that have the sounds of all the instruments in the music room loaded onto them, and the children's task for the day is to discuss in groups about how to layer the different sounds and how to use loud and soft sounds to make their own "magic music." By giving their own opinions but also respecting the views of others, and by testing ways of combining and layering different sounds, the children are repeating the trial-and-error process that is at the core of programming learning.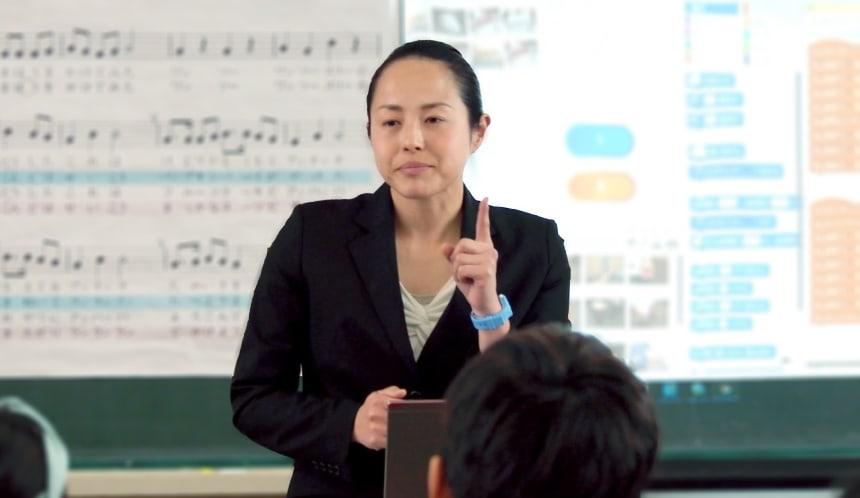 3rd year elementary school students enjoying a 20-minute trial and error session
When they initially touched the tablets in the first term, some of the children had difficulty because they did not know how to operate them, but they are all now very familiar with mouse and keyboard operations also. Lesson teacher Ms. Rie Inoue remembers: "I'm not very good at either music or computers myself, and don't have much knowledge about programming education, so I was a little uneasy at first. However, when I saw children who initially didn't know which button to press to start the tablet remaining enthusiastic and trying really hard, it encouraged me to try hard too."
Ms. Inoue said that the main change she has observed is that children are now more willing to think deeply about problems than before.
Ms. Inoue said: "It is really important during music lesson to touch actual instruments, but it is not easy for children to recreate the music they have made while paying attention to rhythm and intensity. Moreover, playing instruments is fun and they can just get lost in making sounds. However, using a tablet enables them to playback the music they have made over and over so that they can get it closer to the image they have in their heads. During today's lesson I witnessed the children saying things like "If we put together sounds like this, we can make it like magic" while writing combinations of instruments sounds on the planning board in an attempt to make better music."
Members in all of the groups continue asking each other "What do you think?" and "How about this?", and there is a real demonstration of children "working with friends to think logically and solve problems."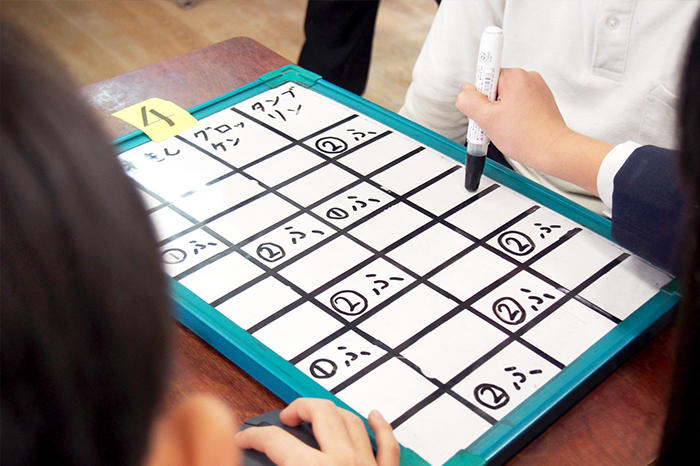 Creating programming education: toward new universal learning
If the lesson aim is to create "music as highly effective magic," use of actual instruments means there is an impact from musical skill and the number of instruments at the school. However, precisely because they are using programming and tablets, the children are able to decide what kind of instruments they want to combine, to make sounds and confirm whether that is actually what they had envisioned, and through discussion with their friends and repeated trial and error, gradually get closer to the kind of music they could not have thought up on their own. The programming lesson was very effective in giving children the "proactive/collaborative skills" and "deep learning" capabilities that society is looking for. This marks the start of a new initiative in programming education to provide the children of the next generation with the tools they will need for the future.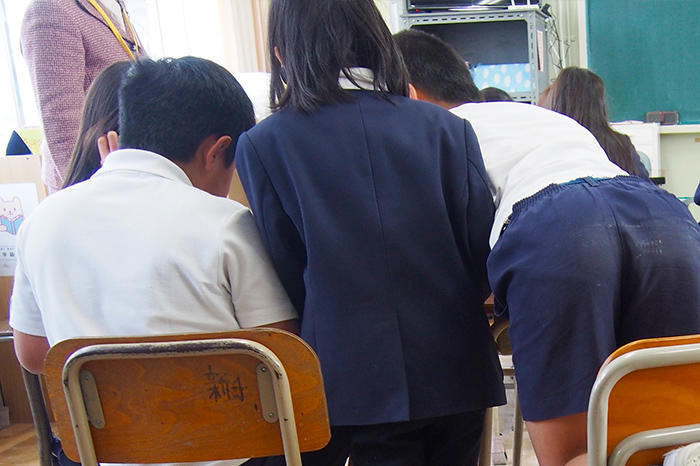 Related websites(Japanese version only)
By referencing:
・the decisions of the Central Council for Education
・the decisions of the Expert Committee at the Ministry of Education, Culture, Sports, Science and Technology, and
・real examples from overseas
Benesse Corporation works together with numerous experts from universities, companies, and NPOs to create and make publically available prototype versions of learning activities that foster the attributes and abilities of "programming-like thinking" as well as standards for evaluating these faculties. https://beneprog.com/2017/05/26/standard01/