2018.10.31
ICT supporters hope to 'create the best classes in the world which inspire children to think'
In response to educational reform, there is an increase in classes using information technology in the school system, beginning with elementary school, and a need for professional support from outside the schools. Benesse Corporation's 'ICT supporter' system has been pioneering classroom support for 20 years. In the following, we introduce our thoughts on technical support as well as the development of children in the local communities through learning.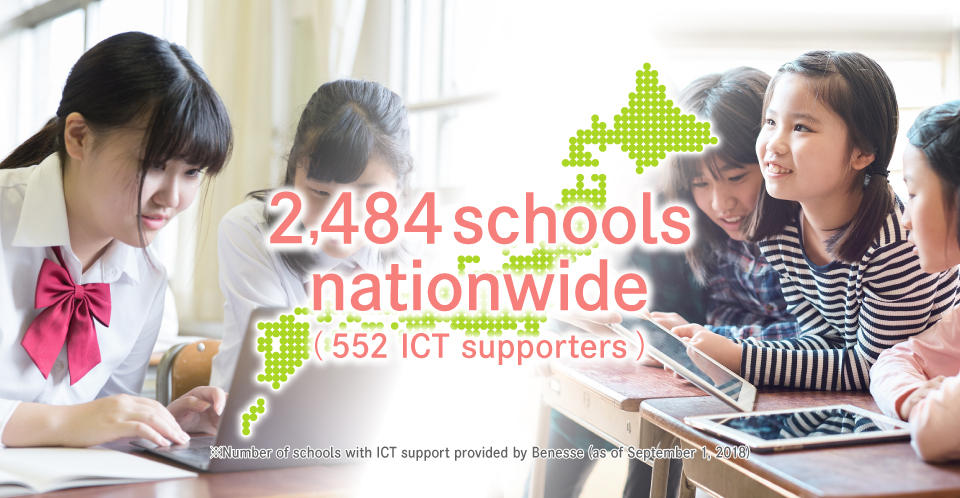 We are in an era of advancing digitalization, and classes using personal computers and tablets have been increasing in school education. Even the education ministry's revised curriculum guidelines call for improved classes which provide 'independent and interactive in-depth learning' to give children the skills they need to live in unpredictable times. As a means to achieve this, active learning using ICT (communication utilizing information technology) is gaining momentum.
Benesse Corporation currently dispatches ICT supporters (teaching assistants) to 2,484 schools nationwide (as of September 1, 2018) to assist schools and teachers using ICT. When this service was launched in 1990 there were just a few ICT supporters, but their numbers have grown to over 500.
20 years ago, ICT supporters assisted with personal computer operations, but now they provide support to teachers for their lesson planning
Initially, the role of ICT supporters was to acquire personal computer skills and assist with 'exploratory learning.' Since electronic blackboards and personal computers started to become commonplace in classrooms around 10 years ago, their role has expanded to assist with the creation of classes which make learning the subjects more interesting.
Miho Kubo has worked as an ICT supporter since 2004 and has seen the changes for herself.
"In the beginning I was teaching touch typing to grade 4 students. I had experience teaching adults, but children are delighted just by being able to type one letter. I remember how cute they were. Children today have information devices at home, so the speed at which they learn has increased dramatically, and the volume of content in each class block is increasing."
Communication with teachers for lesson planning has also become more intensive.
"Before, there were teachers who were afraid to touch a computer, and it was important to relieve their anxiety. Now, almost all teachers are familiar with computers, and mainly I help them come up with lessons which will be interesting for the students.
I exchange ideas with teachers during time out from their busy schedules and we prepare the lessons. It is rewarding to work together with the teachers to figure out ways for students to learn skills to become aware, think, and communicate on their own and to live with confidence."

In recent years, the number of veteran teachers has declined, and it is becoming increasingly difficult to pass down skills to less experienced teachers.
"I've heard teachers say that when they started teaching, they stuck to the material in the textbook or to what they themselves were good at. However, there are different ways to present subjects in order to stimulate children's interests. Occasionally, I ask teachers to clarify what it is they want to teach the children, and make suggestions to help them develop their lesson plan.
Rather than working based on directions from teachers, I get them to share what their purpose is and what results they hope to achieve, and then I offer my expertise and experience."
We want to support children's growth together with teachers and the community
The positive classroom support provided by Benesse's ICT supporters is due to their love for their communities.
"Being able to work where we can see the local children's development up close is very enjoyable. The expression on a child's face when they say 'I did it!' is the same as it has always been, and it makes me happy too." (Miho Kubo)
IC supporters are organized nationally, but each region does its own local hiring. Many of the applicants have children of their own.
According to Benesse's manager in charge of the organization, "Many of the people hired have an attachment to their community and schools and want to do something useful for the region. They have perspective as parents, so they can address the children casually and give praise when they have completed something. They consult with the teachers to figure out how to increase the children's motivation to learn. Their affection for the community makes them want to participate in raising the children together with their teachers and parents."
If ICT supporters work at both an elementary and junior high school in the same school district, they sometimes hear students who have just moved up to the junior high school say they are relieved to see their "familiar personal computer teachers." When they combined a computer skills test with filming of sports day practice which was screened in school, the children's motivation increased noticeably. The teachers appreciated the event as it unexpectedly helped invigorate the school.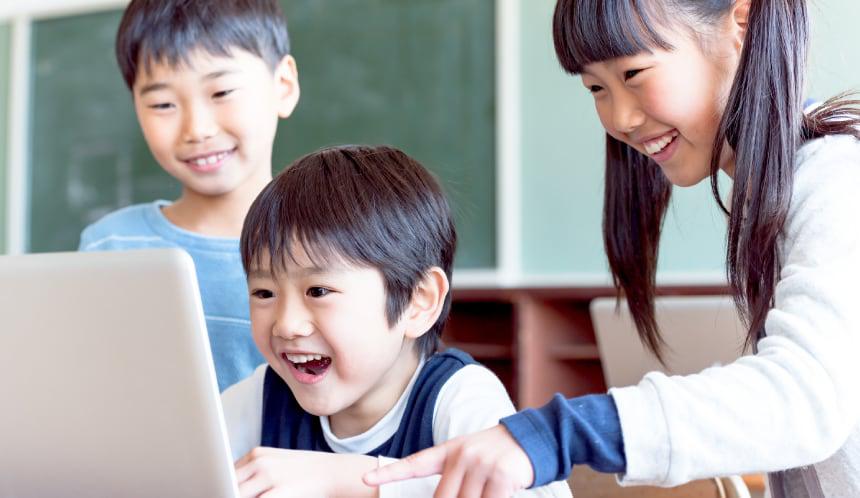 School lessons are likely to change again with the times. With the abundance of learning content available, advances in information infrastructure, and the use of AI gaining momentum, what children learn is also likely to change. No matter how the ICT supporters' organizational environment changes, they will continue to be rooted in the local community as partners who can be depended on by teachers to bring their knowledge and information to lesson planning, and as supporters watching over the children's school life.
─── Further reading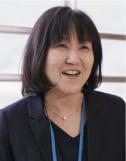 After working as a personal computer instructor, in 2004 Ms. Kubo became an ICT supporter responsible for the western region of her native Okayama prefecture. Currently she supports the organization's human resources development as an 'education meister' or master educator.
---
Benesse Corporation's ICT (Information and Communication Technology) education support is expanding from its core elementary schools to junior and senior high schools as commissioned by the government. In response to the wishes of teachers to provide better instruction, it works as a lesson planning partner, taking advantage of Benesse's expert knowledge in the education field.

*ICT supporter organization information provided by
School Education Division, Sales and Development Department, Human Resources Support Section at Benesse Corporation (Takashi Hasei and Mari Niimi)

https://www.teacher.ne.jp/ict/index.html