2019.4.25
Understanding universities' SDGs contributions: new criterion for selecting a school of choice
The THE University Impact Rankings 2019, published in April 2019, use SDGs as a framework to rank universities worldwide according to the approach they take to social issues. This report focuses on how these rankings are likely to become a new selection criterion for children searching for the right university to realize the vision they have for interacting with society.

*SDGs are a collection of 17 global goals set by the United Nations General Assembly as a blueprint to achieve a better and more sustainable future for all.

*For more information on SDGs, please see the following site
https://sustainabledevelopment.un.org/sdgs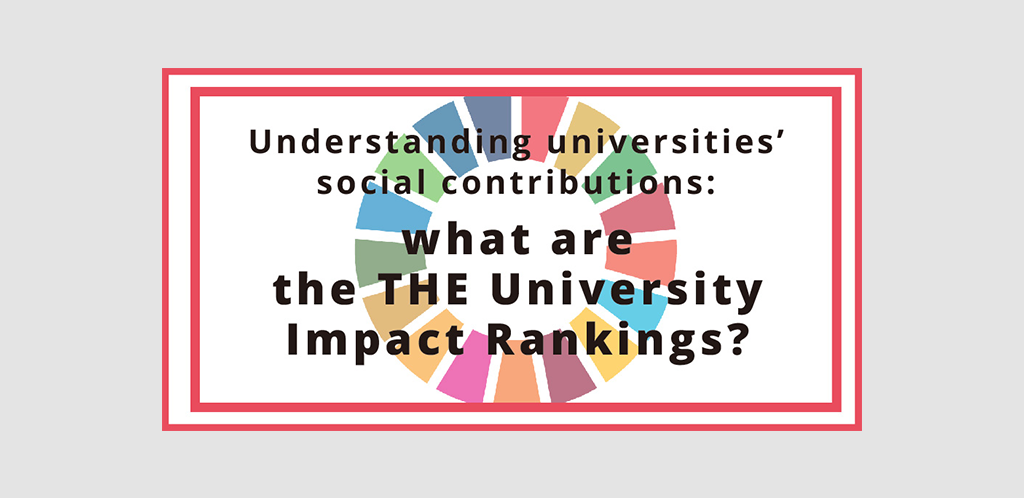 Assessing how universities are tackling the challenge of realizing a sustainable planet
Children born into a world that is changing more rapidly than ever before face a number of issues when deciding their future course in life, including what basis they should choose their university on, and whether it is enough to rely on name value alone.
On 3 April 2019, Times Higher Education (THE) published the THE University Impact Rankings 2019, the first ranking of universities worldwide according to their social contributions. The rankings create an index based on how universities are tackling the 11 of the United Nations' 17 SGDs that apply particularly strongly to universities. As a business partner in Japan for THE, the Benesse Group cooperates in areas such as supporting Japanese universities to get listed on the rankings.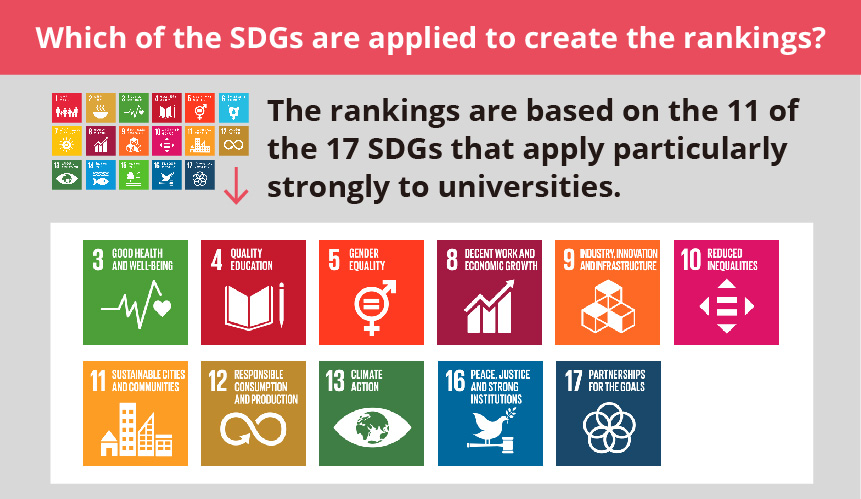 The main characteristic of the rankings is that they highlight universities which are implementing measures to influence societal change, particularly those contributing to solving problems that are global in scale. The overall number 1 ranked university was New Zealand's University of Auckland. The country with the most places in the top ten was Canada, with three universities, and these rankings differ widely from lists which place weight on research activities, which tend to be dominated by institutions from the UK and US.
Japan universities are keenly interested in contributing to industrial society
According to Ms. Satoko Shibata at Shinken Ad (Benesse Group), who reported from the event to announce the impact rankings, "Japan had the largest number of university entries of any country at 52. This included not only major city universities, but also regional institutions that work closely with their local society."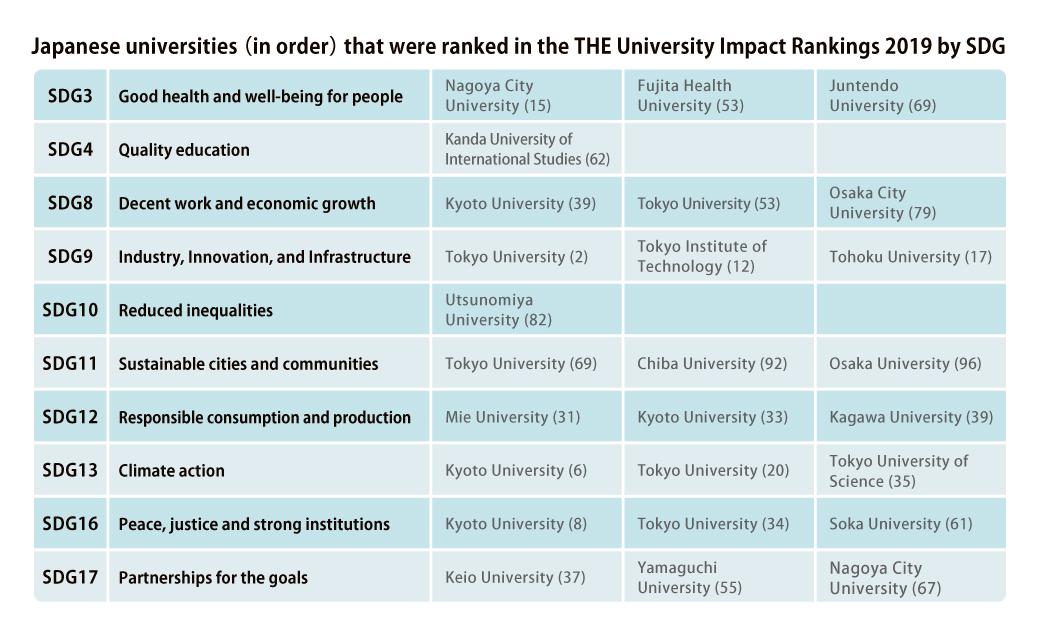 There was a particularly strong showing by Japanese institutions for SDG 9, "Industry, Innovation, and Infrastructure", with three universities in the top 20. There were also 11 in the top 100 for SDG 12, "Responsible consumption and production", indicating that Japanese universities have a keen interest in action on sustainable consumption, including reducing use of plastic products, limiting emission of waste materials, and recycling.
Thinking about one's future from diverse viewpoints and a global perspective
Ms. Shibata said: "Japan has almost 800 universities, and children sometimes select the institution they want to go to without any detailed knowledge of its educational style. As well as conducting research and educating students, universities are now expected to contribute to solving issues at the local, community, national, and global level. The rankings should not be seen simply as an ordering of institutions, but as a means of viewing the social contributions of domestic and international universities that is likely to be increasingly used as a university selection criterion."
Based on the experience of many parents and other caregivers who selected their school of choice mostly with a view to simply passing the university entrance exam, there is an increasing shift underway toward thinking about how the knowledge and experience gleaned from university can be applied in Japan and on a worldwide basis too.
Ms. Shibata stated: "At the time of the rankings' publication, THE Chief Data Officer Duncan Ross said that all of the initiatives being undertaken are positive examples, and these are the rankings of which THE is most proud. Interest has also focused on the major social contributions being made by universities in developing nations, including the first ranking of a Vietnamese university and the second-place ranking for a Malaysian university through efforts such as retraining of elementary and junior high school teachers. Moreover, an increasing number of schools are focusing on sustainability and SDGs as a study topic from elementary school through high school. I hope that parents and other caregivers will also learn about such ranking metrics and use them in helping their children examine universities from a diverse perspective to select the one that can best maximize their potential."
In order to assist the children that will be creating a sustainable society in choosing a future path they are happy with, Benesse will continue to focus on cutting-edge initiatives that give a modern viewpoint on school features.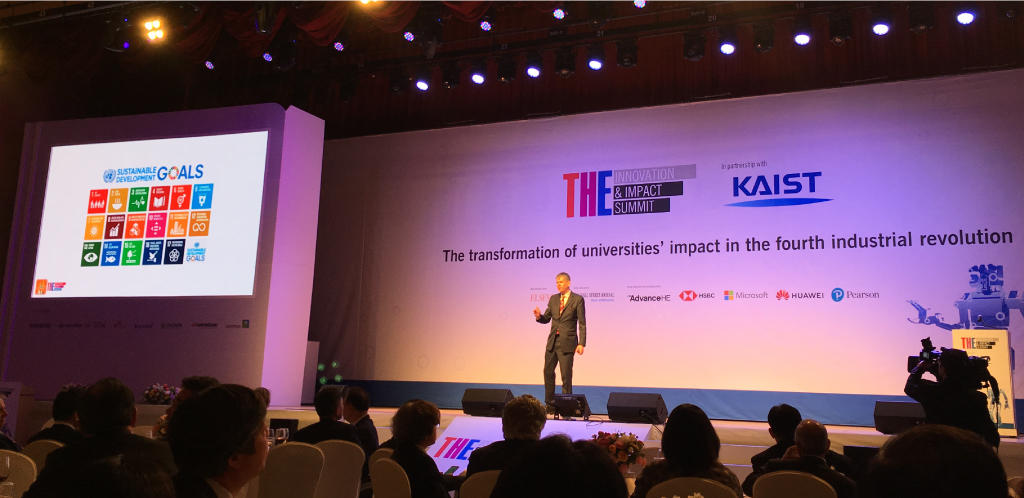 Information cooperation
Report cooperation