2019.5.28
Start of a nationwide project to connect high-school students via SDGs: social consciousness sparked by blunt questions
Activities to tackle SDGs are spreading in high schools throughout Japan as an increasing number of students try to find their own way to impact society. With a view to supporting these efforts, the leadership of Okayama University and Benesse Corporation cooperated to begin the SDG Youth Project. Here we report on the enthusiastic response of high school students who participated in the project's launch event on 17 April, 2019.

*The SDGs (Sustainable Development Goals) are a set of 17 aims developed by the United Nations aimed at creating a sustainable society. See "What is sustainability?"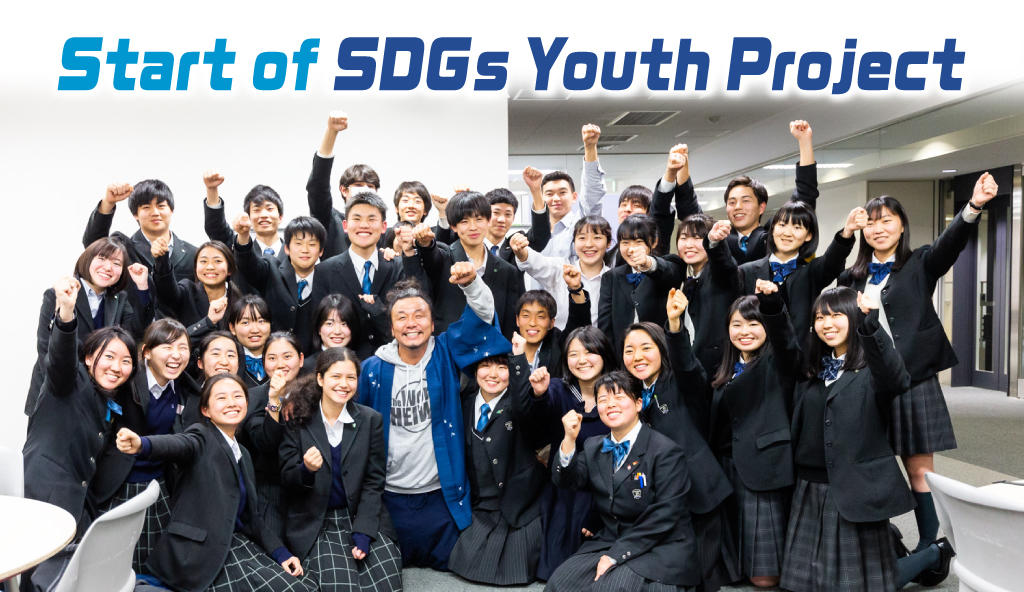 The project links high school students across Japan attempting to tackle the world's social issues
SDGs are now being incorporated into high school educational activities. An increasing number of students are looking at issues from a global perspective, including establishing SDG clubs and talking about them in lessons. The SDG Youth Project was created to support these efforts. In addition to providing a wide range of information about SDGs, the project aims to push activities forward by creating a nationwide network of high school students, mainly through use of an online seminar.
The project launch event was held at Okayama University's Tokyo Office (in Minato Ward, Tokyo) on 17 April 2019. A total of 34 students from five high schools in the Tokyo Metropolitan area (Ikubunkan High School, Ikubunkan Global High School, Kaetsu Ariake High School, Toshimagaoka Joshigakuen High School, and Hiroo Gakuen High School) gathered to talk on the theme of SDG 16, "Peace, justice and strong institutions."
Social activist Yuichiro Morishita appeared as a guest speaker. Mr. Morishita has travelled around Japan and the rest of the world since retiring from a professional basketball career in the US, and he talked about the problems he has faced and the friends he has made in his work on issues such as trying to create a peaceful society and to revitalize regions. Hearing about his real-life experiences seemed to make the students reflect on what they themselves would do in the same situations.
Can everyone in the world live peacefully? High school students approach the issues with blunt questions
Following the talk, students from different schools got together for discussion. Although this was the first time they had met each other, thanks to their common ground in tackling SDGs they were soon chatting happily and exchanging ideas and impressions.
"Making friends in the world is simple yet wonderful. If I were ever on the verge of making a mistake, I think the faces of my friends would come into my mind."
"It is important to acknowledge differences and accept each other, but in Japan we don't get many chances to come face to face with such large cultural differences."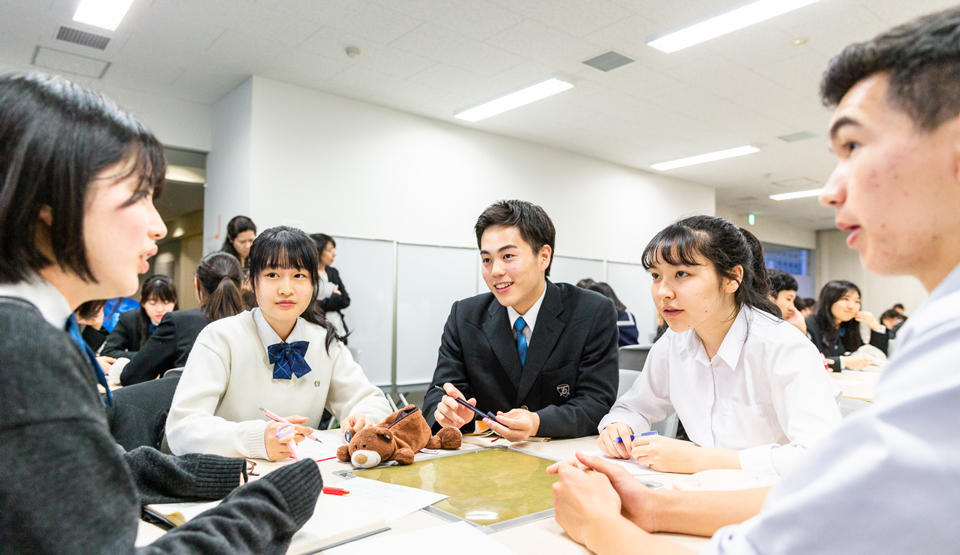 Next, there was an opportunity to put questions to Mr. Morishita, and the students approached the issues very directly.
One asked: "Is it possible for everyone in the world to live peacefully?"
Mr. Morishita replied: "It might be difficult, but I have made friends with people I have met from all kinds of different races and religions. This is because we were able to accept each other's differences, which I think is one aspect of peace. I want to continue working to spread this idea around."
Another student asked: "How do you personally define a peaceful society?"
Mr. Morishita said: "When people you care about, like your family and friends, seem to be having a hard time, don't you feel the same? When you see lots of smiling faces, you yourself feel happy. That to me is a peaceful society."
This honest interaction between high school students and an adult with extensive life experience continued on until the end of the event.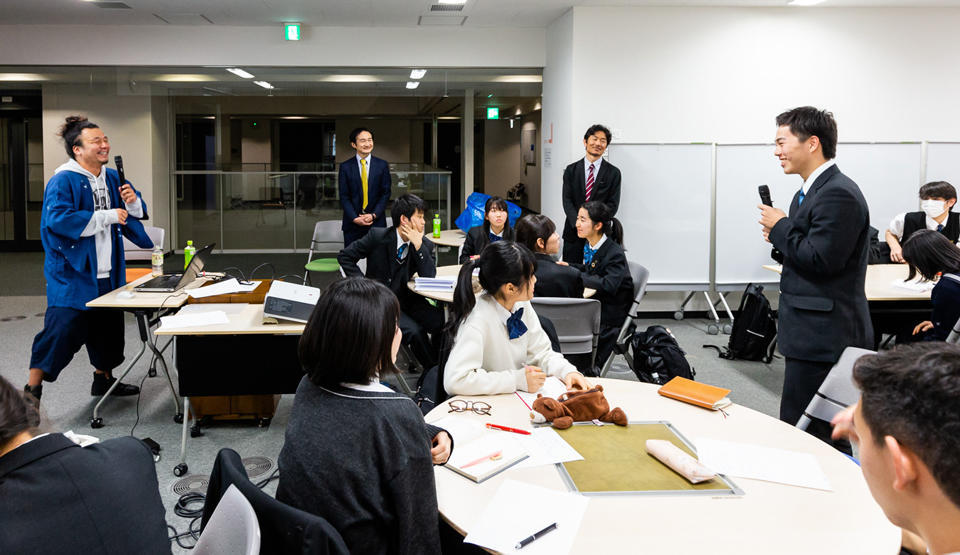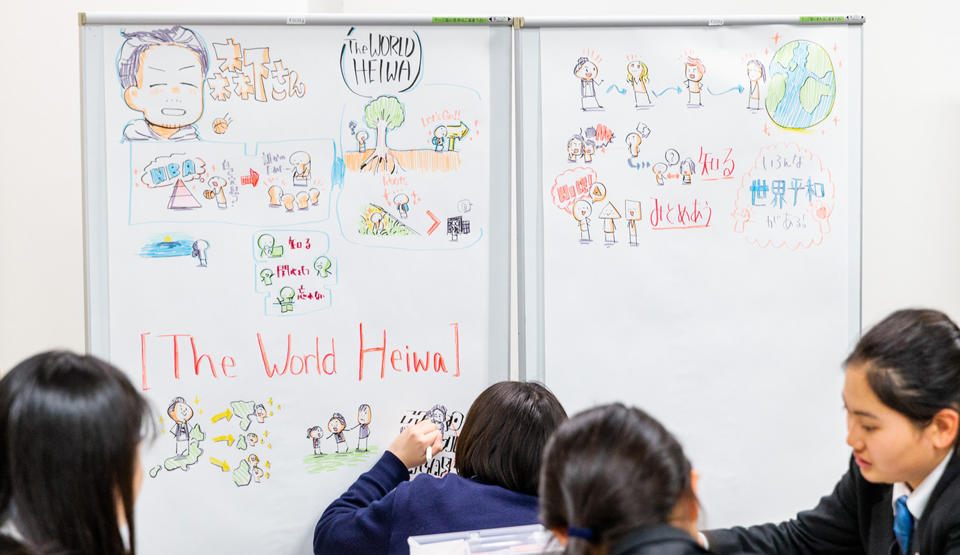 Creating an environment in which high school students as the architects of the future can work together to develop social awareness from a broad perspective
A post-event survey showed that many of the students were thinking about how they can have an impact on society, with responses including "I want to learn the skills to be in a position to make a difference", "I was moved by the fact that he could talk about all these things from his own experience", and "It has reinforced the belief that I have to experience things for myself to really understand."
Benesse Corporation's Shunpei Komura, who was involved in promoting the project, said: "I think any event that gathers high school students from several schools and gives them a chance to talk with an adult member of society is very stimulating for both sides. I suppose you could call this "meta school", an opportunity for students to learn things they would not by just going to school. It is also a chance for business people and researchers to reexamine the value of their activities and research from a medium- and long-term perspective. I want to use the SDGs as a gateway to create events across Japan at which people from different walks of life can talk and learn from each other."
Benesse will continue to experiment with a variety of formats to support high school students and schools in their efforts to tackle the SDGs.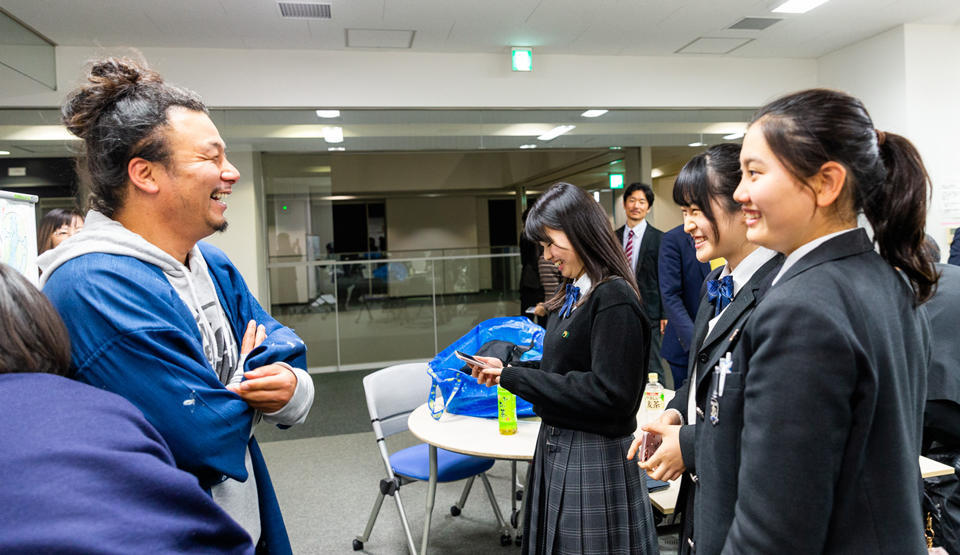 Information assistance: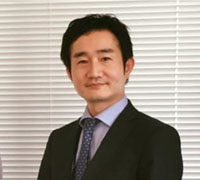 Shunpei Komura

Mr. Komura belongs to the Education Innovation section of Benesse Corporation's school company, as well as being a Special Advisor to the President at Okayama University.

This project was formed as a collaboration between Benesse Corporation, as part of its educational support to schools, and Okayama University, which promotes achievement of the SDGs via "the pursuit of knowledge and research into the generation of new knowledge", "the fostering of new ideas and social activists, and educating the next generation by passing on what we know", and "the bringing into life in the broader world the knowledge we have acquired from this research and education."