2019.6.28
Overcoming barriers of nationality to become friends and work together: an English language workshop that gives children a chance to experience the wider world
Amid efforts to create a worldwide "sustainable society (keeping the earth a place in which we can live in the future)", there is a growing need for people from around the world to get together to tackle this goal. BE studio, Benesse's English and English conversation school for kindergarten and elementary school students, hosted a performance of "Young Americans", a play created together with a cast of foreign nationals. This was an opportunity for children to gain confidence and a sense of accomplishment by overcoming barriers of nationality through communication. Here we describe how the children soon found their initial nervousness turning into excitement.
*This article was recreated from an original piece in the "BE studio Tsushin" in-house magazine.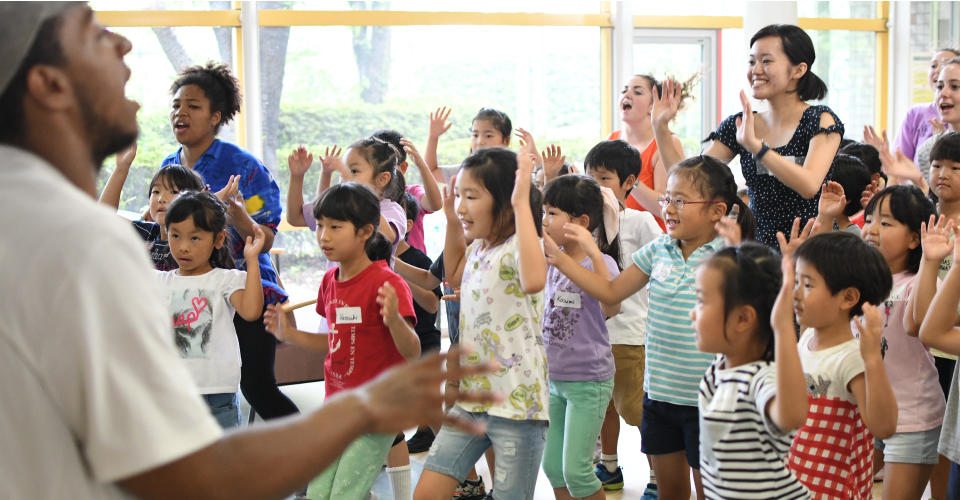 "Young Americans" is a workshop that gives participants a chance to create a show while learning songs and dances from a real foreign cast. Opportunities to meet such a cast are rare outside of movies, stage shows, and theme park shows. It is a popular event in many countries, and BE studio hosts its own original version. Here we report on the summer 2018 edition.
Learning to work together to turn "dreams" into "excitement"
Meeting the cast of "Young Americans" was probably a shock for the children initially. The moment the door opened there was a hearty cry of "We've been looking forward to this", and the multinational cast began chatting away like they had been friends with the children for a long time. Lined up in front of the children was a foreign cast with a number of very colorful individuals, but what they shared was outstanding capabilities as performers. As they began to sing, dance, and introduce themselves, it was clear from the looks of admiration that the children were thinking "This person is amazing!"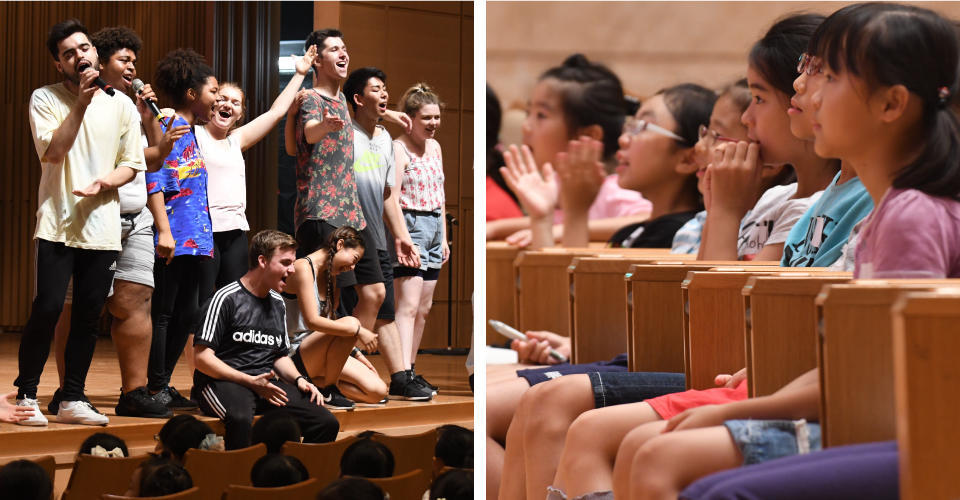 Having witnessed a powerful performance, the children then got a request from the cast.
"By the end of today we want to finish this show with you. If we all work together we can do it!"
Some children looked really excited, others couldn't hide their surprise, and still others looked a little concerned. Despite all these varied reactions, there was an overall sense of calm as the children thought: "Maybe we can do this…".
"OK, let's start practicing. Come and stand with a cast member you like and we'll teach you the first dance. Come on, get up on stage!"
This changed the atmosphere immediately. Suddenly, two separate groups of "children" and "cast" were transformed into one group of "children and cast."

Everyone's hard work enabled communication from the heart, not just through words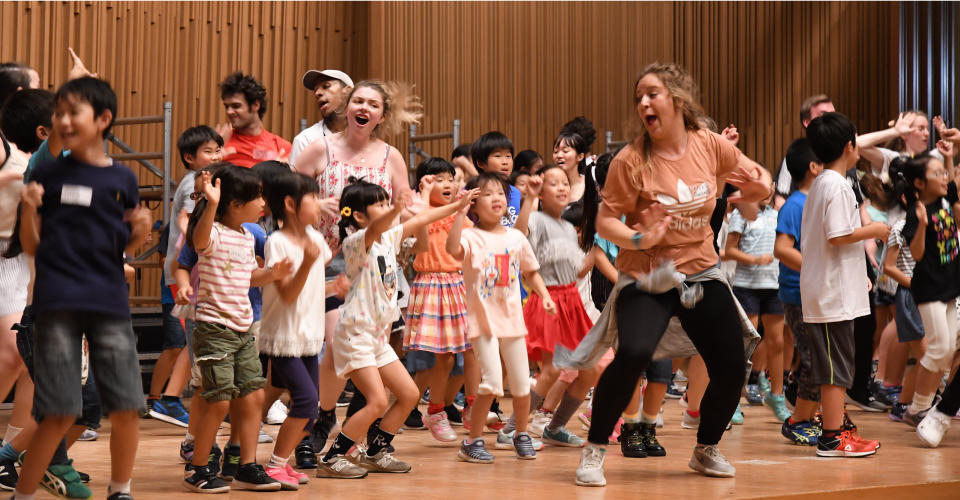 Throughout the day, the children continued practicing in various groups and various combinations of different parts. Although this was the first time the children had met each other never mind the cast, the process of rehearsal soon melted away any barriers, and children and cast alike were soon just all friends working to put together a show. The sight of the cast and children sat in a line saying to each other "That dance was great, wasn't it?" brought to mind a group of old friends. Seeing their children chatting freely with cast members caused some parents and other caregivers watching from the seats to remark "It looks like a scene from an American movie."
"Let's make a fantastic show! You're all doing really well. To make it even better, let's..."
The children listened carefully to the words of the cast. With a common goal, they put their all into dancing around and singing at the tops of their voices, and without realizing it naturally began to trust one another. Through the mediums of song and dance, the children felt what it is like to overcome differences of nationality and age.
Developing confidence and a sense of accomplishment by becoming friends with people from different countries and working together on a show
The children encouraged each other throughout rehearsals, and as the mood lifted higher and higher, it was soon show time. The confident performance caused amazement among the parents and other caregivers: "They put this together in just one day? Unbelievable!"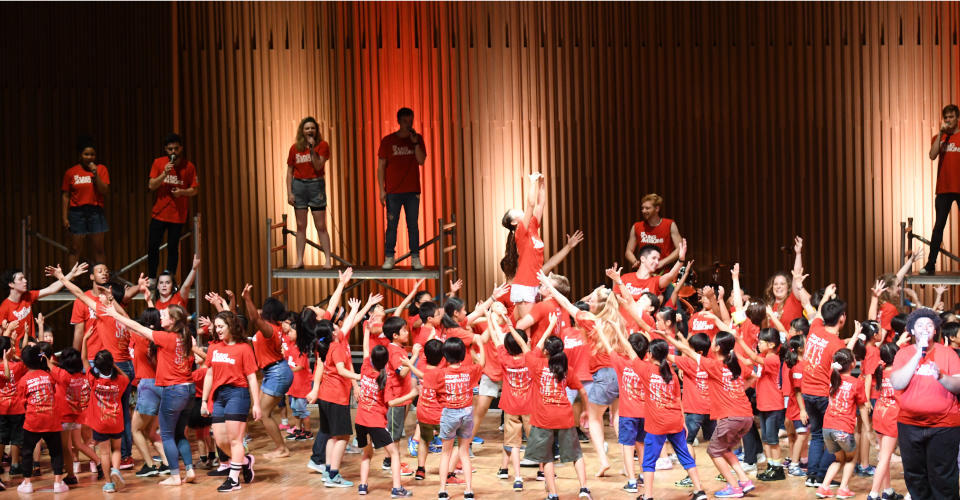 "The lyrics helped me remember lots of words I don't normally use" said Saya (a 2nd-year elementary school student at the time), who was participating for the first time and was given a solo part. Her watching parents said "Her nerves gradually faded, and we saw her getting more confident as she realized she could do more and more." Another first-time participant Rina (a 3rd-year elementary school student at the time), who joyfully showed us a message from the cast when the show was over, proudly said: "I was able to speak more and more, and was able to make friends with the cast too."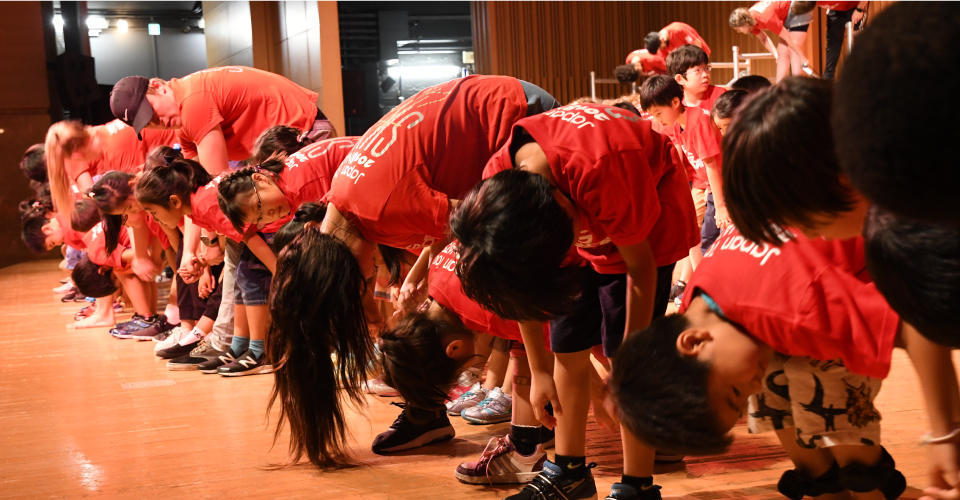 What the children gain through "Young Americans" is the confidence and sense of accomplishment from overcoming barriers of nationality to become friends with people, and then working with them toward the common goal of putting on a show.
Benesse intends to continue providing a variety of opportunities for the children who will shape the future to come into contact with the wider world and to develop the skills to communicate confidently.
Article cooperation

■BE studio, Benesse's English and English conversation school for kindergarten and elementary school students
https://benesse-bestudio.com/

*Benesse Be studio Inc. is a Benesse Group company that operates an English language education business, mainly for children. Its business is focused mainly on English lessons (through its Be studio schools), but it also offers an international pre-school, an English lesson contract business for kindergartens and nurseries, and English language events.。

<Be studio Tsushin>
"Young Americans", a play created with a cast of foreign nationals
https://benesse-bestudio.com/tsushin/event-report/young_americans_1.html

<Information on Benesse Group's English language experiences>
https://benesse-bestudio.com/event/