2020.6.22
Benesse STEAM Festival: an online event enables junior high and senior high school students to learn as equals with working adults and companies
In March 2020, Benesse Corporation held Benesse STEAM Festival 2020. This event gives junior high school and senior high school students a chance to announce their research into and solutions for real-world social problems, as well as to exchange opinions with working adults and experts from universities and companies. The original plan had been to bring everyone together in an event space, but it was decided at the last minute to switch to an online gathering in order to prevent the spread of COVID-19. While this was the first attempt at an online event, it enabled the kind of communication equality that is not possible in a face-to-face situation, creating a lively session free of differences in age, status, and specialism.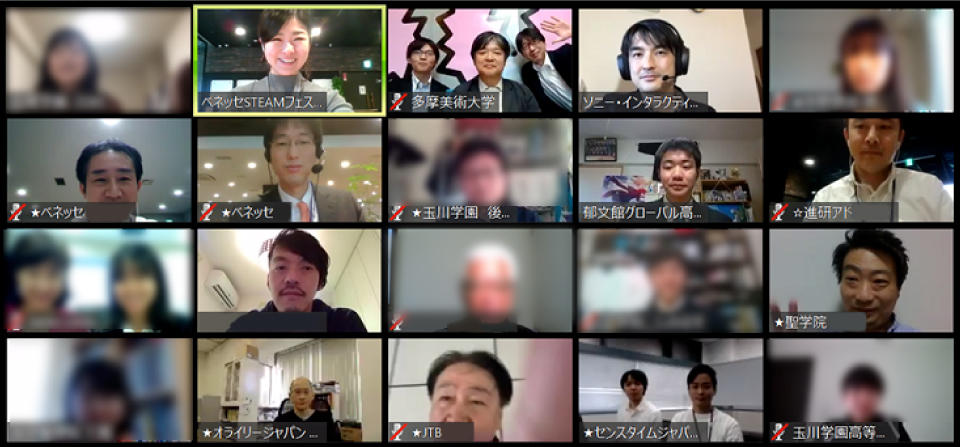 The aim of STEAM education is develop people who can shape the next era of technological innovation
STEAM education combines the five disciplines of Science, Technology, Engineering, Arts, and Mathematics, and is aimed at developing children who can shape the next era of technological innovation, including via use of AI. STEAM programs are becoming widely adopted in overseas countries such as the US, and Japan has also incorporated STEAM principles into its new Courses of Study. Benesse Corporation is trialing STEAM education with a large number of schools.

Benesse STEAM Festival 2020 combined presentations and workshops that tap into the special characteristics of online communities, with the aim of creating a space in which students could benefit from deeper and more advanced learning, rather than just being a simple presentation and awards space. One such characteristic was that the teams of junior high school and senior high school students uploaded their presentations to the internet in advance to allow participants to make comments. Junior high school and senior high school students and working adults posted a variety of comments and questions, and the teams who would actually present on the day of the festival were then selected.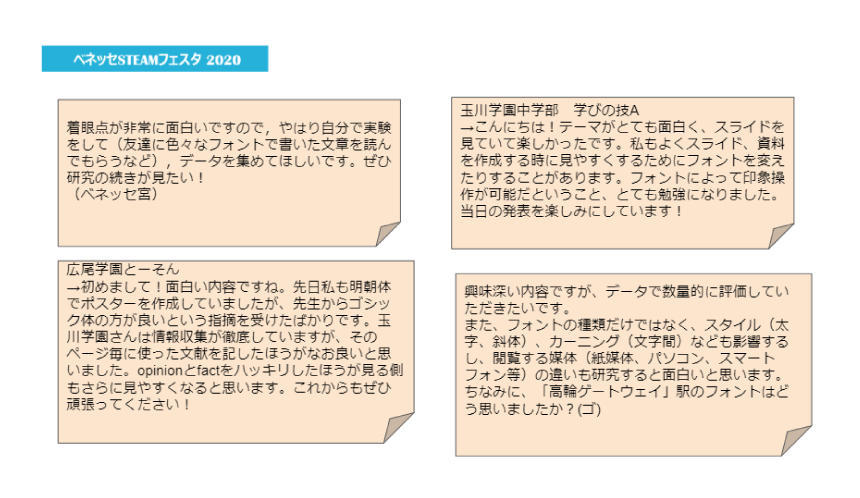 On the day, the event started with around 50 participants online, including 38 junior high school and senior high school students from the nine schools who entered. After the opening ceremony, the six chosen teams made their presentations.

The presentations demonstrated a strong interest in sustainability, including a team that did fieldwork in Hawaii on the subject of food wastage, and a team that began an aid campaign for an ethnic minority group in Thailand by importing and selling coffee beans. Even during the presentations, questions and answers were exchanged between the participants on screen, and this gradually blossomed into the type of communication that tends to be left unsaid in a face-to-face scenario. The experts, university professors, and working adults expressed their surprise at the interesting research approaches taken and the level of specialist knowledge being shown. They offered advice and expressed their hope that the students would take an even broader perspective in their continued studies.

An online event enabled students to hear the direct opinions of experts and business people they would normally never be able to meet
A member of the festival staff said: "I was a little nervous about our first online effort, but it went better than expected, and we almost didn't have enough time." This was encapsulated by the excited voices of the students discussing their experiences after the event.

Student S from Seibu Gakuen Bunri Senior High School said: "While being online meant we couldn't see people's faces directly, I suppose some of them could only participate because it was online. I was able to make my presentation without being nervous, so I think it's a medium that suits me."

Student Y from Mita International Senior High School told us: "I was happy to be able to make a presentation on a topic of my choosing to people of different age groups and specialties. I got some good advice. It's the kind of thing we wouldn't be able to do at school, and you can't just ask passersby…so I'm glad I took part in this kind of event so we can learn useful new things from each other."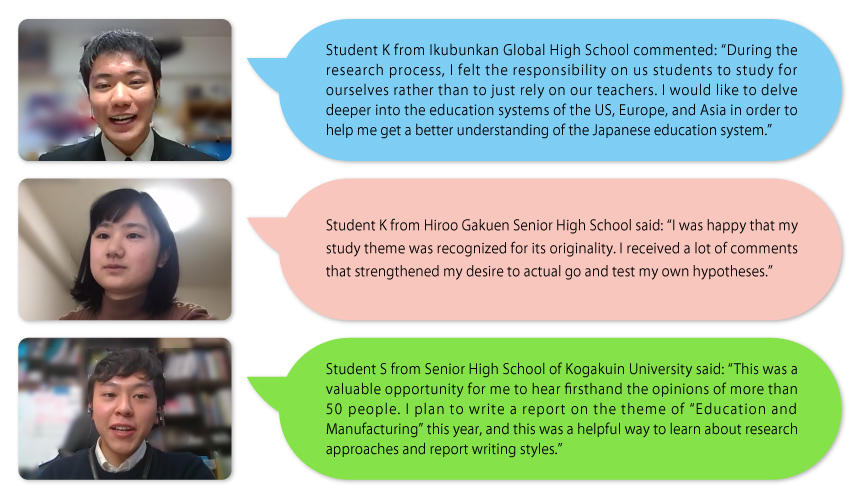 Creating a space in which junior high school and senior high school students and adults from various age groups and specialties can learn as equals. We hope this spurs participants to try "something new" that can shake up society.
Festival project staff member Shunpei Komura talked after the event about the participants, including the junior high school and senior high school students.

"Benesse STEAM Festival is designed to be three different kinds of realms. First, a realm in which a diverse range of people including junior high school and senior high school students, working adults, academics, and specialists, can participate on an equal basis. Our aim is for this to be a space in which everyone can learn, not just the junior high school and senior high school students. Second, a realm in which new value is created by the interaction of people from the academic, social, and industrial spheres. Third, a realm which offers not only "the reward of new discoveries," but also "opportunities to develop one's own practices and research."
"I felt that the addition of the online element this time around added something deeper to the festival experience. One thing I would like to say to the junior high school and senior high school students who participated is to not just be an "early bloomer." I don't want them to become the kind of people who reach a normal level competence a little earlier than everyone else and then stop developing. I'd like them to find new things that can shake up society and set about attempting those things, even though such things might be difficult to understand at first and involve lots of arguments and counterarguments. I hope the festival can attract those kinds of people and help create major new momentum."

This festival confirmed that use of online media to learn from each other is a very amicable way of doing things, and Mr. Komura noted that the challenge now is "how to successfully combine these online elements with a real-life gathering of people." Benesse will continue to explore how to create human development spaces that create "something new" that can shake up society.

*The next scheduled event is Benesse STEAM Festival Summer 2020, slated for Sunday August 23, 2020. Students will have a number of opportunities in June to exchange opinions and polish up their presentations ahead of the actual day.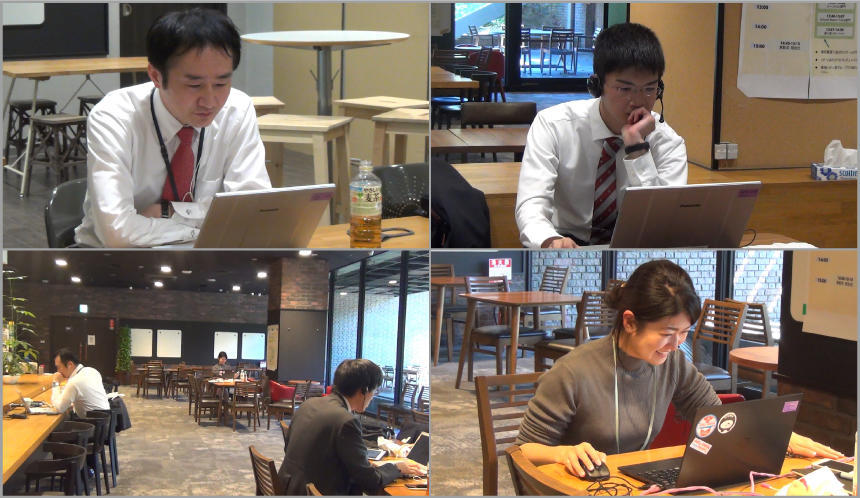 Information, Article cooperation
・Benesse Corporation's:Education Innovation Business Development Office/BC Business Development Department