2020.7.17
Online Kindergarten opened in just one week in a swift response to societal changes. Kodomo Challenge initiatives continue to provide support suited to the lifestyles of children and parents and other caregivers.
Kindergartens and daycare centers have been closing one after another across Japan in order to prevent the spread of the novel coronavirus. Responding to the concerns of parents and other caregivers about how to cope with this situation, Kodomo Challenge opened a free Online Kindergarten to allow children to maintain the rhythm of their daily lives while also encouraging their desire to learn. With lifestyles having changed significantly even after the lifting of Japan's national state of emergency, here we spotlight ways in which Kodomo Challenge continues to provide study opportunities suited to the lifestyles of children and parents and other caregivers.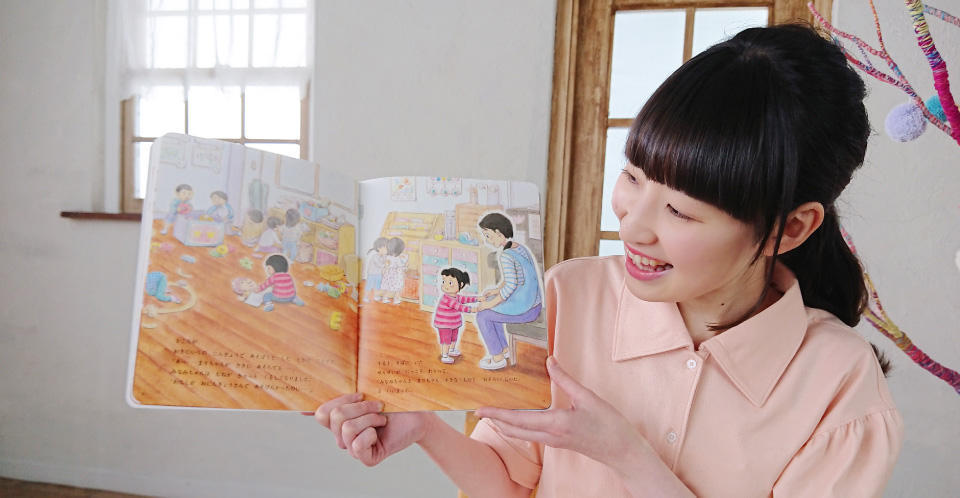 Responding to totally unexpected societal changes. Creation of Online Kindergarten in just one week.
Since its inception in 1988, Kodomo Challenge has provided a variety of learning experiences for the infancy stage of child development. Its current lineup of services stretches from correspondence courses to concerts, movies, and the broadcasting of educational programs for infants. It also provides its correspondence courses in China, Taiwan, and South Korea as well as Japan, and has built up a global base of more than two million users. On 18 March 2020, Kodomo Challenge opened Online Kindergarten in response to the closure of kindergartens and daycare centers across Japan and the government's stay-at-home edict.

We talked to Reona Yamada from Kodomo Challenge's editorial team, who was in charge of this new venture for the company, about the challenges of creating and opening the website in just one week.

"We were very aware that we had to respond with a sense of urgency to such totally unexpected societal changes. Given the circumstances, we wanted to provide appropriate support to children and their parents and caregivers, and that was our top priority."
With children and their parents and caregivers suddenly forced to spend a lot of time at home, the Kodomo Challenge members' service center began receiving a lot of anxious inquiries about how to best spend this time, including how to cope with a lack of exercise and the disruption to the rhythm of children's daily lives.

"We swiftly decided to create an online kindergarten that responded to the needs of parents and other caregivers to provide a similar daily pattern at home to regular kindergarten and helped to overcome a lack of exercise and maintain the rhythm of children's daily lives. Normally, our creation process would be to come up with a plan and then do several rounds of research, before narrowing down our criteria and starting to produce something. However, in order to ease the concerns of parents and other caregivers as soon as possible, this time we did all of that at the same time as seeking the opinions of friends and families that we knew, and this enabled us to begin creating the project much faster."
When deciding on the content, Ms. Yamada said she used the experiences from the time she spent in actual kindergartens when getting her kindergarten teacher's license as a student.
"I focused on how children normally spend their days at kindergarten and what kind of interaction they have with their teachers, parents and other caregivers, and then came up with a plan of how I was going to recreate this online."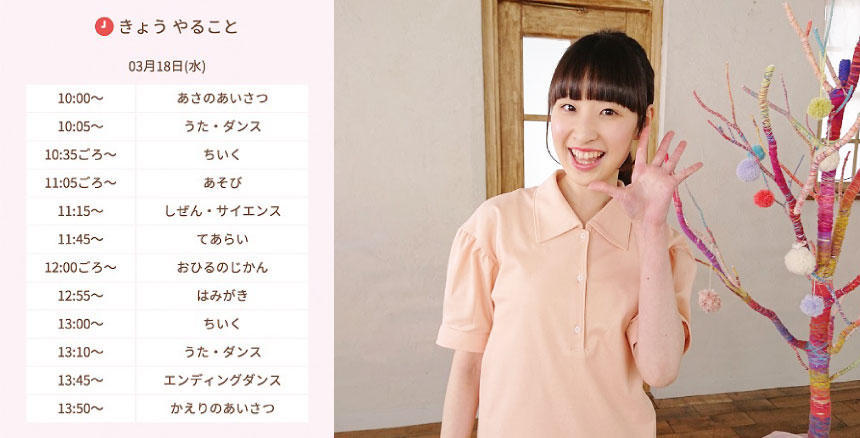 In order to provide useful content to children in the limited time available, experts and the production staff worked as one to create Online Kindergarten.
The website was able to open in such a short space of time because there was an existing corpus of knowledge from Kodomo Challenge and because of a production structure that enabled various people to work closely together.

"An emergency callout for production staff initially yielded only two people. We were able to swiftly open the site despite this thanks to rapid planning approval and especially to a host of senior industry colleagues who listened and gave us assistance when we hit problems, including expert external supervisors and video production staff who helped us along the way. They encouraged us with comments such as "I'll help with the filming however long it takes" (an expert external supervisor) and "I want to help out as I have children of my own" (a video production company staff member), and thanks to them we were able to create learning content befitting of Kodomo Challenge and bring Online Kindergarten into existence.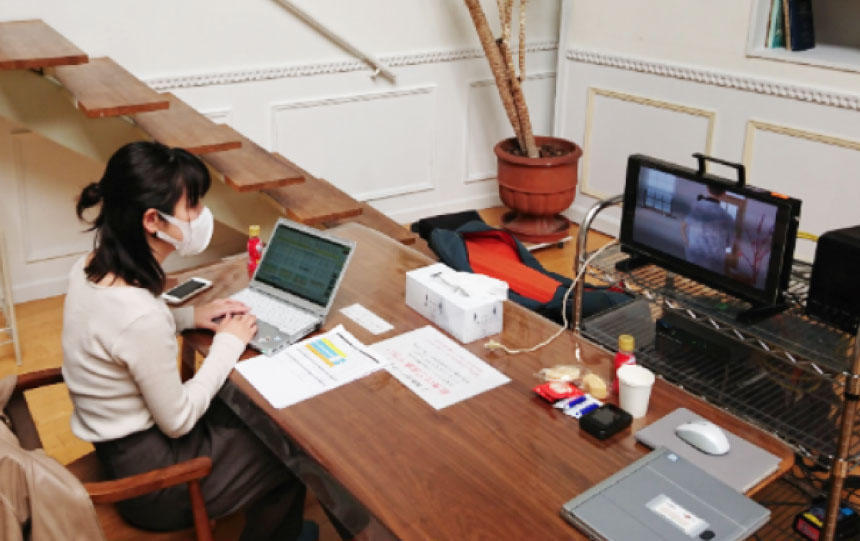 We want to refine the learning and distribution methods to fit more closely with the changing lifestyles of children and parents and other caregivers.
Soon after Online Kindergarten opened, there was a sharp spike in users at it began trending on social media. The initial two-week operating period was extended, and revisions were made to reflect user comments.

"It was really satisfying to receive so many nice comments from users, with people teleworking saying that having their children use Online Kindergarten was a great help in giving them time to concentrate on their work, others reporting that they were happy to see their children get some exercise while they watched the content, and others that using the content together helped them realize the progress their children are making. At the same time, while we had originally intended the service to be for Japan only, people living overseas who had learnt about it through social media got in touch to say they'd like to show it to their children but were unable to because of the time difference. That prompted us to begin archiving the content so that it could be watched the next day."

We subsequently had users asking for more videos, and responded to this by expanding the types of content available. A month after the website went live, we had users in more than 90 countries, and the final number of users for Online Kindergarten reached more than 700,000.

Once the national state of emergency was lifted in Japan, we temporarily took Online Kindergarten offline. Since June 2020, the service has been overhauled and relaunched with new content as a summer school.

It has now been four months since Online Kindergarten was opened. We asked Ms. Yamada for her reflections on the project now that she has moved on to overseeing new products and services for Kodomo Challenge.

"My experience with Online Kindergarten really brought home to me the power and possibilities of online media. I believe that as content increasingly moves online in all areas, the growing prevalence of working from home and teleworking will alter the working styles of parents and other caregivers and also transform learning needs. My colleagues and I are currently discussing what kind of adjustments Kodomo Challenge should make in response. I feel we must overhaul the style of our learning methods to align with societal changes, including by combining new methods with online content while retaining the core value we have built up in educational materials. Our aim is to continue to provide optimal learning experiences that are suited to lifestyles of children and their parents and caregivers."
To that end, Kodomo Challenge will continue to implement a variety of initiatives.
Article cooperation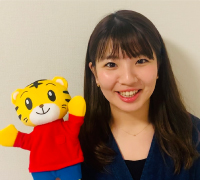 Reona Yamada
Benesse Corporation
Global Kodomo Challenge, Japan Section
Nursery Department
Entering Benesse Corporation as a new graduate, Ms. Yamada was assigned to the product development section of Kodomo Challenge, the company's correspondence course for infants.
In her fourth year, Ms. Yamada became involved with product development for the pre-school business (children aged 4-6 years old), and is currently responsible for producing mainly video materials and picture books for 1 and 2 year olds.

・Online Kindergarten
https://www2.shimajiro.co.jp/kodomo/online/
・Kodomo Challenge
https://www2.shimajiro.co.jp/index.html