2018.8.23
How have attitudes of mothers and fathers changed in 25 years: announcement of the "ideal father" rankings
Benesse group company Tamahiyo undertakes a variety of activities to spread good cheer among women in the pregnancy, childbirth, and child raising stages of life, as well as among their families and children. The company has released a report detailing the findings of a survey into "Attitudes on fathers' participation in child raising." Based on appraisals from mothers as well as fathers themselves, a comparison with the situation 25 years ago when the publication began highlights significant differences in child raising participation that reflects the changing times. We would like to introduce some of the findings here.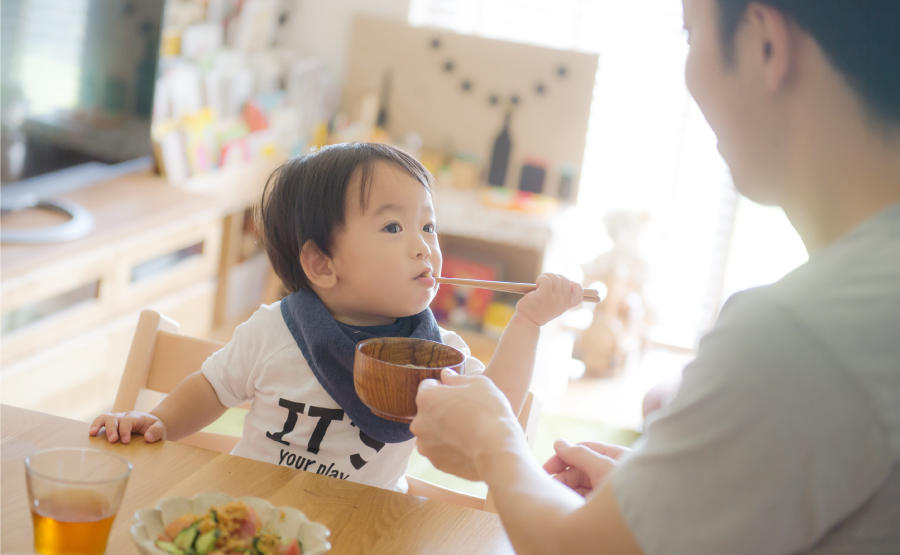 "Ideal father ranking" reflects societal changes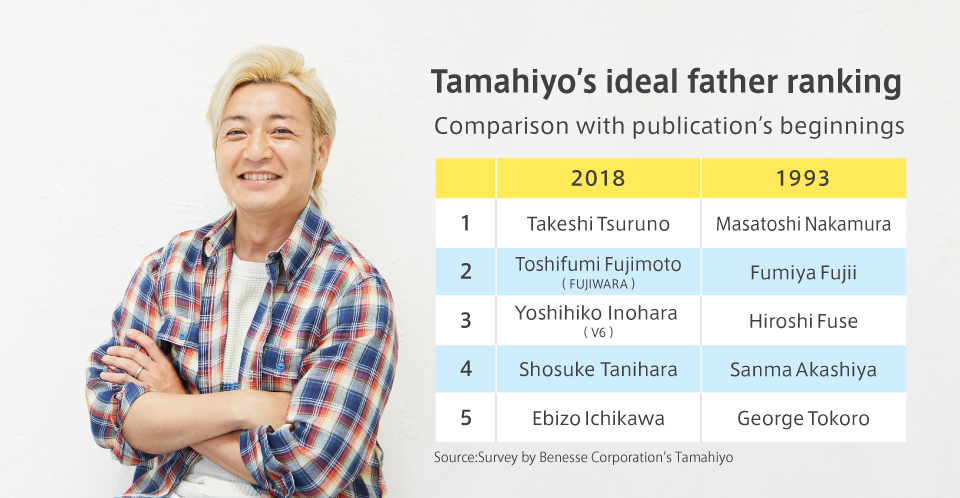 The ranking was produced by Tamahiyo (Benesse Corporation), which supports mothers and their families in the pregnancy, childbirth, and child raising stages of life. Twenty five years ago, when it began publication of the Tamago Club and Hiyoko Club magazines, the No. 1 ranked person was Masatoshi Nakamura, known for his acting roles and TV commercials. Now, the No. 1 is Takeshi Tsuruno (pictured above), who is popular among mothers for his social media posts showing his participation in child raising and housework, attracting comments such as "The homemade boxed lunches on his blog are amazing" and "He really seems to value his family." It seems information availability and societal changes have had a major impact on the image of the ideal father too.
This change is also evident from a comparison of the content of Tamahiyo's publications. Nowadays, a lot more fathers are actively involved in child raising, and are keen to experience both the joys and difficulties of raising a child along with their partners. Mothers' attitudes have also changed from "How do I get him to be a good father?" to "Let me share raising the child with my husband."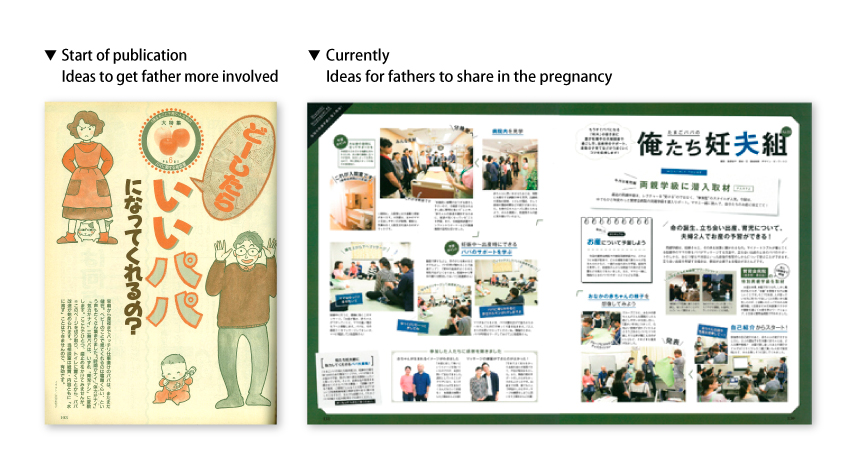 "How many points would I give my child's father?" Mother's rating declines, father's own rating increases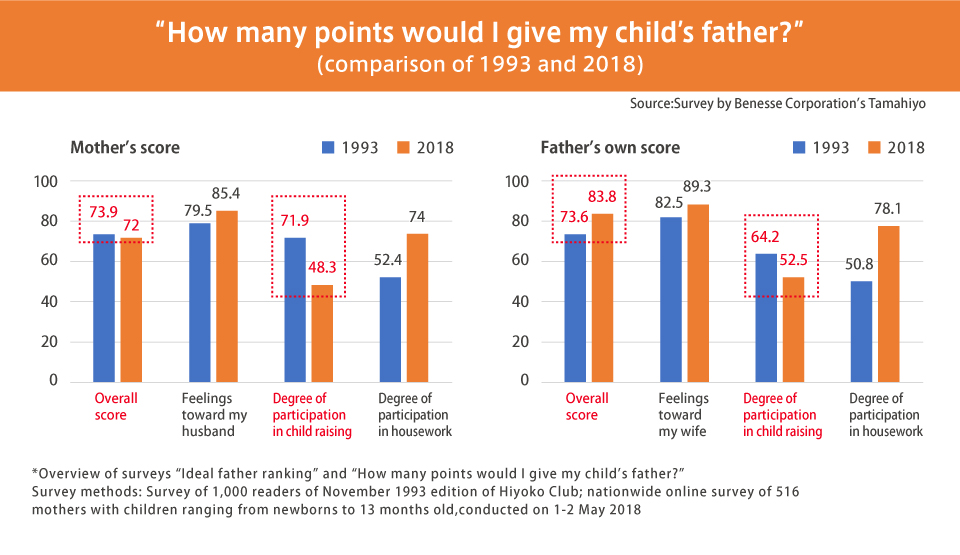 The following survey data were also collected. Mothers were asked to score their partner's participation in family life, and fathers were also asked to rate themselves. A comparison of overall scores compared to 25 years ago indicates that while mothers' ratings of their partners have declined, there has been a significant increase in fathers' own ratings. In terms of the level of participation in child raising, both mothers' ratings of their partners and fathers' own ratings have declined, with a particularly large fall in the former. Why has this happened?
Gap between reality and the ideal of "Of course fathers should be involved!"
The cause of the slight decline in fathers' own ranking for participation in child raising compared to 25 years ago could be that they while they want to get more involved in child raising, work or other factors prevent them matching up to their partner's increased expectations. Most current young parents were brought up at the beginning of changes in society, and have experience of both men and women being taught about homemaking. Although a large number of men want to put their home life before work, only 5.14% of eligible workers take paternal leave, not even close to 10% (Source: Ministry of Health, Labour and Welfare survey 2017). This illustrates that the environment has still not sufficiently developed to enable fathers to participate more in child raising.
Seeking help from others to approach child raising at one's own pace
We believe that the increasing number of fathers showing their active participation in child raising on social media has enabled parents to find advice about how to raise children together. However, looking at how other raise their children can also cause mothers to start thinking "She's so lucky…" "We have to try harder."
Hiyoko Club's managing editor Yukiko Nakamura said:
"Seeing that phenomenon, we have tried to convey messages such as "You don't have to try so hard", "It's OK to ease off sometimes", and "There are lots of ways to live your life and lots of different lifestyles." At the same time, we always say that while easing off in other areas is fine, "the baby must come first" to ensure the child's health and safety. Rather than trying to fill the gap on your own, it is sometimes necessary to speak up and ask for help from others."
Attitudes about child raising are heavily influenced by changes in society. That being said, the essence of raising a child remains for parents to find their own way of ensuring their child's happiness.
*Photograph of Takeshi Tsuruno: Picture by Kanae Toyama (Tamahiyo Photo Studio); Stylist Yoshiaki Sato
Information supplied by

Tamahiyo (Benesse Corporation)

As it reaches its 25th anniversary in 2018, Tamahiyo continues to provide support to ensure greater happiness among mothers, families, and babies in the pregnancy, childbirth, and child raising stages of life under the slogan "Enjoy 1,000 days: enjoy you, enjoy now."