2018.3.29
What will it be like to raise children while working in the Japan of the future?
Packed with parents who have brought along their babies, "TAMAHIYO college: Shaping the Future for Families with Two Working Parents" was a valuable event for dual-working couples raising children, enabling them to pick up new information and exchange opinions with others in a similar situation. Here we introduce some of the takeaways from this seminar.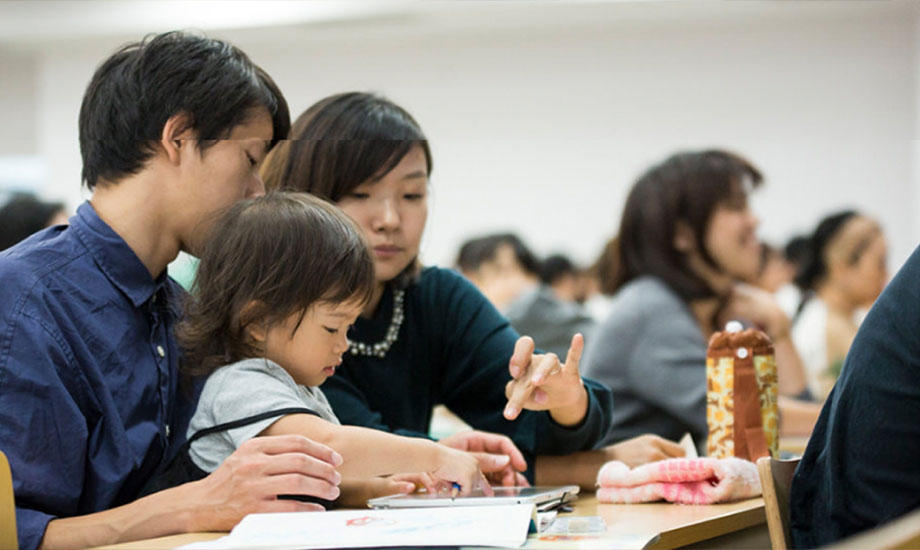 Packed with parents who have brought along their babies,
"TAMAHIYO college: Shaping the Future for Families with Two Working Parents"
There are significant hurdles to raising children these days for parents who both work. Even if a woman wants to return to work after giving birth, she often cannot put her child into a kindergarten owing to the widespread social problem of waiting lists for open places. Fathers also find it difficult to take paternity leave because of a corporate culture that frowns on such requests. As illustrated by the phrase "one-parent child raising," couples often find it difficult to share duties, and the burden of housework and child raising all too often ends up falling on one partner. In light of this problem, in the autumn of 2017 Benesse Corporation group company Tamahiyo and Jissen Women's University partnered to host a seminar titled: "TAMAHIYO college: Shaping the Future for Families with Two Working Parents." We would like to share some of the events from the day.
Despite being a lecture-based event at Jissen Women's University's Shibuya Campus, the room was filled with couples and their babies. This highlighted that the problem of how to best manage child raising while working is of concern to many couples in dual-working households.

Only 3% of Japanese fathers are able take paternity leave, far lower than the number who want to
One of the key points that came out of the lectures was that "while households with two working parents are gradually becoming common, societal and corporate systems are not keeping pace." For example, although more than 30% of Japanese fathers say they want to take time off under the child care leave system, the actual number that is granted time off is only 3%. In comparison, fathers in Norway are granted a set period of paternity leave, and as the time they can take shrinks if they do not make use of it, more than 80% of fathers do so. In addition, their salaries are 100% guaranteed (*1) Managing child raising alongside work is obviously something that is heavily influenced by societal and corporate systems.
(*1) According to the lecture "New family structures: lessons from positive sociology" by Masako Ishii-Kuntz (Professor at Ochanomizu University)

Have you fallen into "lone-parenting" rather than "child raising"?
As part of the seminar, veteran mothers were on hand to give advice to newer mothers facing up to a return to work after maternity leave. The advice was full of easily-applicable, real-life tips, and seminar participants listened intently. Judging by the forest of hands that shot up in the Q&A session, this was a very valuable opportunity for people to share their concerns.
Advice from veteran mothers
・"If you want to progress up the career ladder but also value raising your child, it is important that you state this feeling clearly in talks with your boss. It is crucial both for your company to understand that you are motivated to get promotion and for you to not try taking everything on yourself."
・"I was worried that I didn't have enough time to spend with my child, but after deciding to take a 30-minute block of time each day that I use just to be with my child, I felt much better."
"When I cannot avoid being absent from work, such as when my child has a fever, I very politely say "I'm really sorry" and "Please help me out" when I have to lean on my co-workers."

Talking to others in the same situation is very helpful for thinking about how to change things
In the workshop, seminar participants got the chance to talk freely with each other. While people were initially shy about introducing themselves, the atmosphere soon changed to one of friendly chatter. Comments heard in the workshop included: "It has been good to share my worries, and made me think I have to find things that suit me and my own best way of doing things" and "I have felt reassured knowing that there are other people going through the same struggles." As each couple met with others in the same situation and learned about other families' thinking, it was an opportunity for them to consider "This is what we are like." This seminar might also be the catalyst for change in the style of dual-working households.

TAMAHIYO college Autumn 2017