2020.10.30
It's OK to be different. Tamahiyo covering diverse new family styles in its 27th year.
In 2020, Tamahiyo entered its 27th year as a brand focused on the areas of pregnancy, childbirth, and child raising, and consistently delivers content through its Tamago Club and Hiyoko Club magazines and via its website. During that time, it has endeavored to not only provide information to help its readers find solutions to problems encountered in childbirth and child raising, but also to report on diverse new family styles. Against the backdrop of ongoing decline in its birthrate, Japan still has a deeply-rooted traditional view of what a family is, including having no legal framework for same-sex marriages or people living under separate surnames after marriage. In this article, we talk to staff at Tamahiyo about their efforts to cover diverse family units.

*A baby with its two fathers. Mr. Fumino Sugiyama (left of the picture) is still listed as "female" on the official family register, but recently became a father after having a baby with his female partner. He is seen here with his close friend Gon, the biological father of the baby.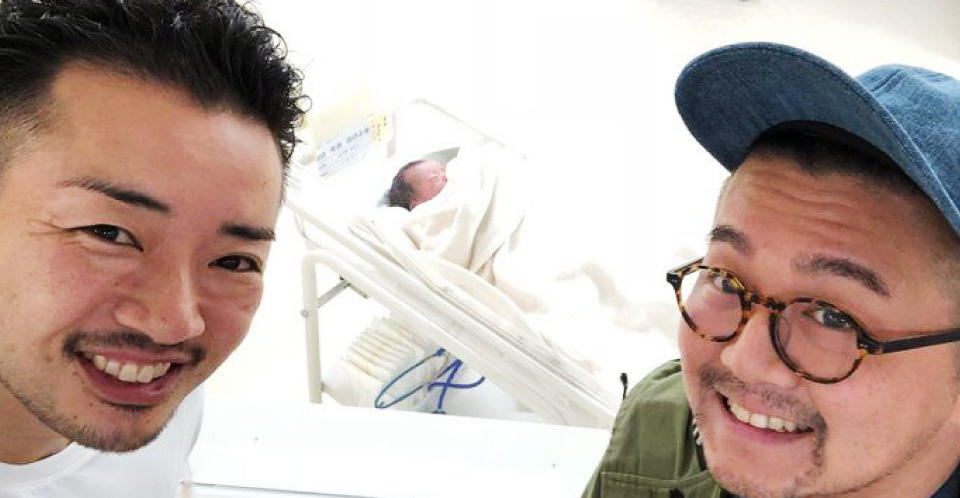 The website and magazine cover diversity in family styles, including LGBTQ, single parents, and plenary adoptions
Under its brand slogan "Enjoy 1,000 days" (referring to the period from the start of pregnancy through the child's first few years), Tamahiyo has delivered content on a range of problems and concerns that couples might face during the precious days of a pregnancy and childbirth. Now one of the new topics it is focusing on is diverse family styles. It has added features on families and stepfamilies who have welcomed children into a wide range of circumstances, including LGBTQ couples, single-parent families, and plenary adoption families (an adoption which terminates the relationship between birth parent and child), and presents information on the real-life experiences these families have in childbirth and child raising.
What is a family? There is no "correct" form of marital relationship, blood relationship, or family style
We asked Ms. Yumi Horinaka from Benesse Corporation's Tamahiyo Media Department about what prompted Tamahiyo to begin covering diverse family styles and about some of the most impressive families she has met through her work.

"Tamahiyo has always strived to adapt to changing circumstances in families and children's environments. However, when we reached our 25th anniversary in 2018, we decided to feature a wider range of ways of thinking and began a special section titled "Tamahiyo: Thinking About the Family" and that brought us to where we are today. From within our ongoing coverage we selected and published an article called 'Our Children's Future' and that made an impact on the readers of the section, with lots of them expressing their interest in the topic."

"We had featured a lot of different family styles, and many of them have left an impression. For example, there is Mr. Yoshida, a single father with three children. We hear a lot about how tough things are for single mothers, but single fathers (who account for 13.2% of single-parent families*1) also have a difficult time raising their children. Mr. Yoshida's total honesty about his own situation seems to have sparked a more open environment regarding child raising, and I was touched by stories of other single fathers struggling with feelings of loneliness and worries being really helped by the kind words of others."

"Another case we have featured regularly is that of LGBTQ activist Mr. Fumino Sugiyama, who makes us question the standard model of a family. Mr. Sugiyama has formed a family with his same-sex partner, and they have a child that was born after a sperm donation from their close friend, Gon. The child is currently being raised at Mr. Sugiyama's parents' house, with Gon also participating as another parental figure whenever he visits. They have formed a team of adults committed to protecting the innocent baby. Tamahiyo highlights the ever-changing challenges of the precious days of a pregnancy and childbirth in its "Enjoy 1,000 days" feature, but for every 1,000 people there are a 1,000 different stories. I have realized that there is no "correct" form of family, with varying options for blood relationship, marital relationship, and whether to have children or not."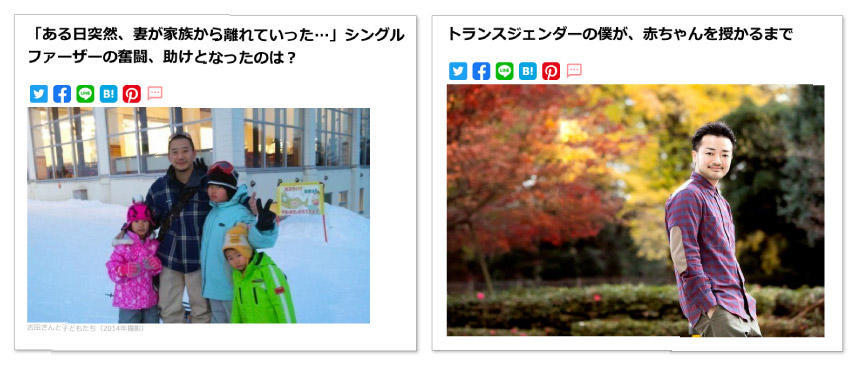 Toward a better society in which individuals team up and everyone enjoys raising children
In conclusion, Ms. Horinaka talked about the thinking behind Tamahiyo's content on diverse families.
"When Mr. Sugiyama's LGBTQ partner gave birth at a Tokyo hospital, he was apparently told: "Don't worry, none of the staff here will say anything about that." That made me glad that Japan has changed, but at the same time I realized that there was a disconnect because even though here was a new type of family, they were actually being treated as though they weren't a family. It made me think that by teaching about such diverse families and differing values, we can help people who are struggling to speak up for themselves due to the constraints of "ideal family" thinking."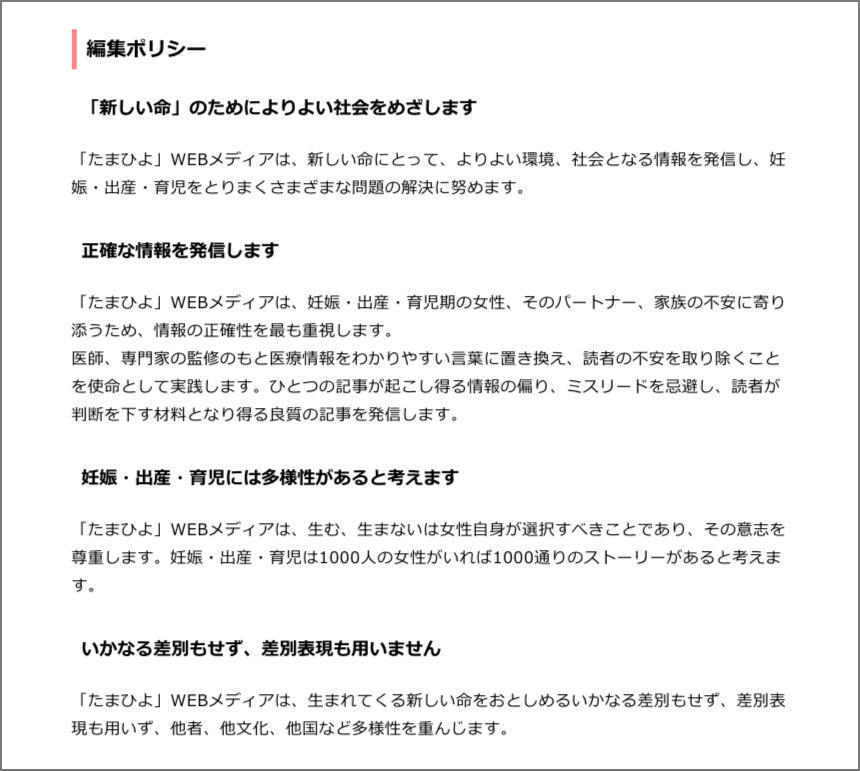 "While readers of the magazine down the years have surprisingly formed an opinion about what constitutes a "typical Tamahiyo article," the increasing amount of online content we now post has broadened the Tamahiyo readership to include men and people of all ages rather than just mothers and younger women. We have widened the scope of our content to match this growth in readership and the changing times, but the core philosophy of Tamahiyo remains unchanged: that is, to value trust and empathy while aiming to create a better society for "new lives." We intend to continue delivering content in keeping with this philosophy."

Tamahiyo continues to deliver content that aims to create a better society for childbirth and child raising.

*1 Ministry of Health, Labour and Welfare's "2016 Survey on single parent households" (Japanese only)
Article cooperation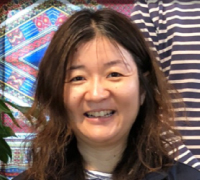 Benesse Corporation
Yumi Horinaka
Tamahiyo Media Department
Joined Benesse in 2005 after working as chief editor at a toy goods magazine. Following stints at housewife lifestyle magazines Thank You! and Lucere! and at child raising magazine Hiyoko Club, moved to Tamahiyo as chief online editor. She is a mother of two.