2019.12.19
An island goes back to the future: the challenge of restoring the natural beauty of Naoshima
Japan has been hit by a succession of natural disasters in recent years, including typhoons, earthquakes, and torrential rains. The island of Naoshima, which sits in the Seto Island Sea, has not been immune to this, with heavy rains causing the major collapse of an embankment*1 that runs down to the sea. Benesse Art Site Naoshima*2, which has been active on the island for around 30 years, set about trying to fix the damage in order to return the island to its former glory for future generations. In this article, we look at the efforts being made to keep the island beautiful for decades to come.

*1 The embankment is a slope created using the cut and fill method.
*2 "Benesse Art Site Naoshima" is the collective name for all art-related activities conducted by Benesse Holdings, Inc., its subsidiary Naoshima Cultural Village Co., Ltd., and Fukutake Foundation on the islands of Naoshima and Teshima in Kagawa Prefecture and on Inujima island in Okayama Prefecture.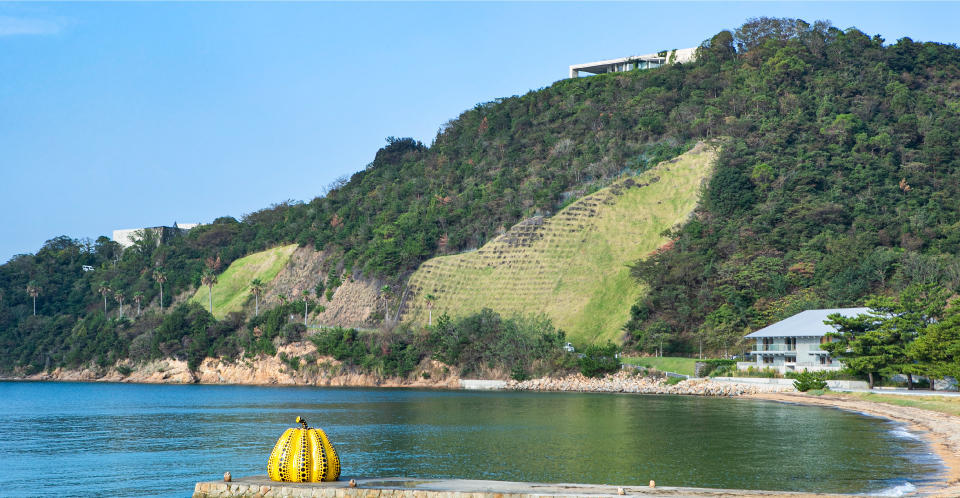 Embankment collapses after heavy rains: what can be done to restore the island's natural beauty for future generations?
The Seto Island Sea region's traditional rural charm draws large number of visitors from both Japan and abroad, and on Naoshima they can enjoy a variety of art and architectural attractions that channel the region's unique culture. The island suffered major damage from heavy rains and typhoons on an unprecedented scale in successive years, in 2017 and 2018, leading to the collapse of an embankment adjoining Benesse House, a combined art museum and hotel.
A variety of restoration methods were considered, including applying a concrete covering to reduce costs and construction time. The method eventually chosen by Benesse Art Site Naoshima aimed to ensure the safety of the embankment while regenerating it using plants native to the island.

Benesse Art Site Naoshima has always had a policy of creating vistas using existing natural beauty wherever possible, and this restoration effort was entirely in keeping with that stance.

First, in order to protect the exposed earth, a planting base was created into which plants could extend their roots and absorb water and nutrients.
The plan was to return the embankment to its original state of a mountainous slope covered in vegetation by mixing seeds native to the island into other soil to be used so that trees and grasses could put down roots. To that end, a large amount of seeds was required.
An event was planned for November 2018, three months after the disaster, in which all staff would work together to gather seeds.
All the staff working on Naoshima joined forces to collect seeds to remake the embankment
On the appointed day, the staff of Benesse Art Site Naoshima headed off into the mountains together and collected plant samples native to the island following expert advice. Seeds were then taken by hand from each sample individually.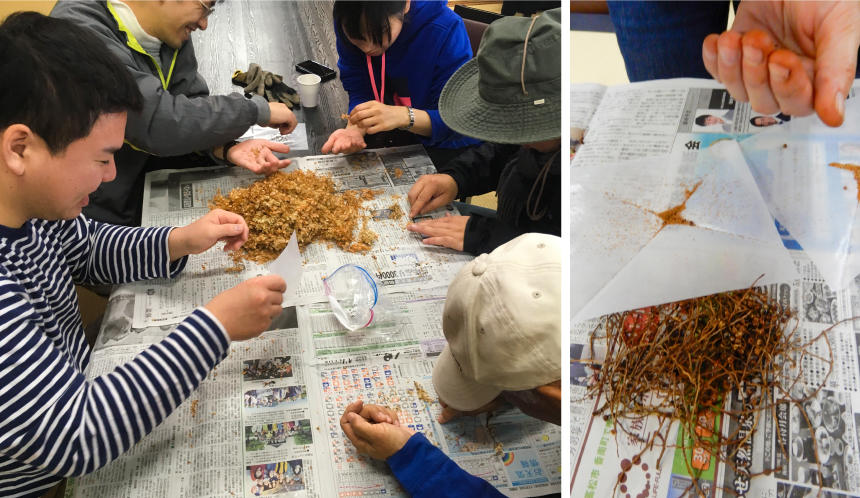 By steadily working to remove seeds, including removing the outer layer of fruit pulp to enable extraction, staff eventually collected around 30 different species. These seeds were then later carefully inserted into the planting base of the embankment.
---
Around a year after the seed planting, we spoke to Mr. Tadashi Kamata and Ms. Akiko Kamata of Unittane Landscape Design Office, vegetation planting experts involved with the project, about the current state and future prospects for the embankment.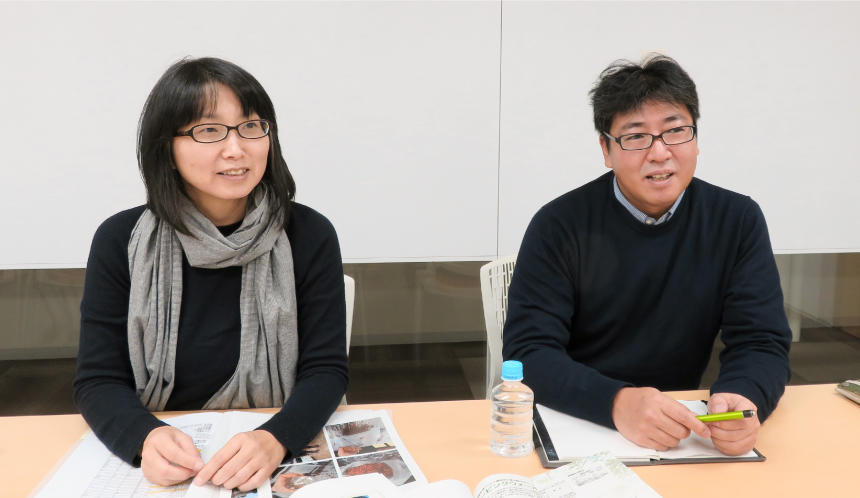 Mr. Kamata: "Embankments have a tendency to dry out due to the runoff of water and fallen leaves, and are therefore tough places for plants to thrive. This embankment has developed a green look through building up of a thick planting base on top of granite bedrock into which plants have grown. However, the extremely tough weather conditions this spring meant the seeds we planted did not take hold as expected."

Ms. Kamata: "We are researching methods for using plants native to the island by a process of trial and error, including raising collected seed samples in the protected environment of greenhouses. We are still in the initial stage with this embankment of creating a planting base as an environment in which the seeds can be placed. Work to naturally regenerate somewhere is a long-term process, but in time we hope to nurture sprouts from native seeds into trees and forests."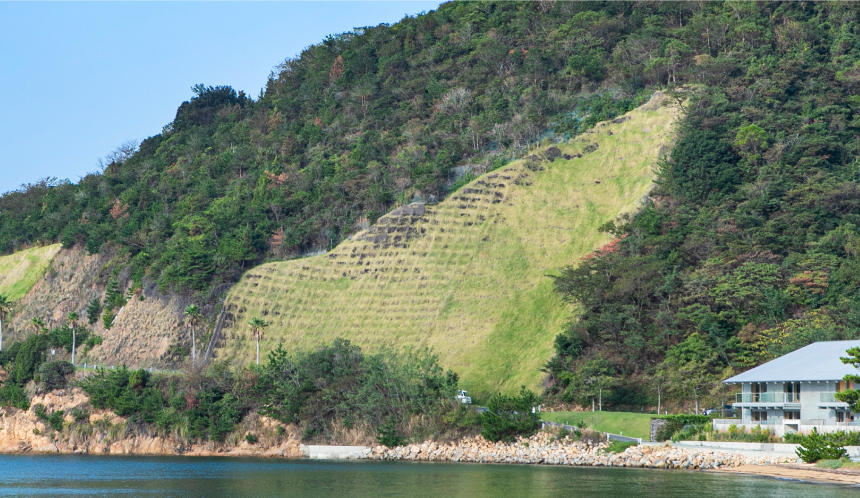 We want it to become a source of inspiration for the natural environment and other possibilities
We also spoke to Mr. Shigeki Fukumoto, the supervisor for Benesse Art Site Naoshima at the Naoshima Coordination Division of Benesse Holdings:

"We are not managing this area with a view to turning it into a tourist attraction. We want to create a place that embodies the sense of "Benesse" (well-being). We want it to become a source of inspiration to the people who visit for consideration of the natural environment and other possibilities."

"For example, the museum at Benesse House faces the sea, and the natural light pouring in through the large windows enables the art to be seen alongside the views of the Seto Inland Sea. As a result, the experience of viewing the art changes depending on the time of day and the season. The art on Naoshima blends in with nature and changes along with nature. By prioritizing the deep-rooted principle of "living together with nature," we want to present the natural beauty of Naoshima as is. Our aim is to pursue this thinking for the natural environment and for other areas to connect with future generations."

There are apparently plans to collect more native seeds next spring, and we will continue working to regenerate nature for future generations.

Information, Article cooperation